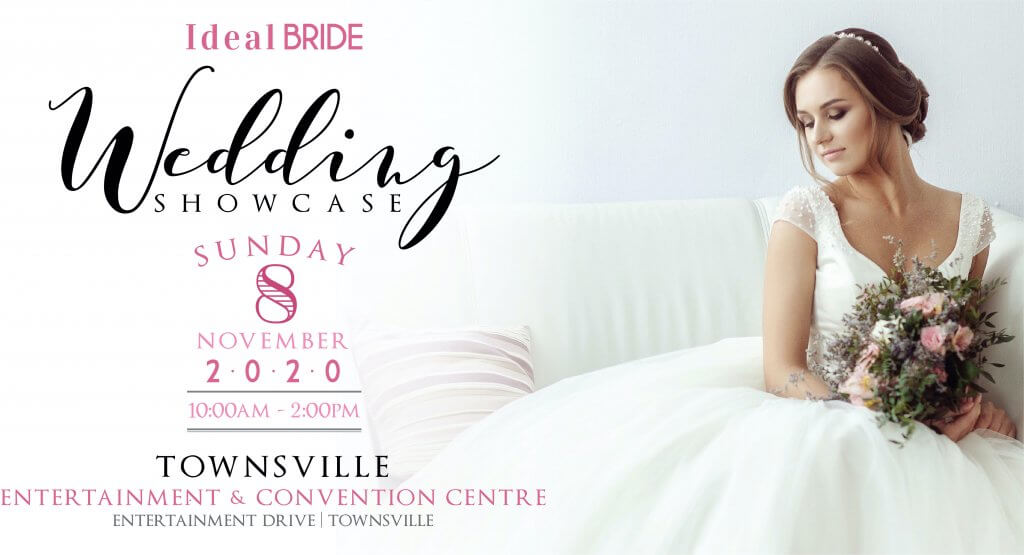 Wedding Expo Townsville
The Ideal Bride Ultimate Wedding Expo is again being held at the:
Why You Should Choose Ideal Bride 
At Ideal Bride, we have been putting together wedding expos in Queensland for 30 years. Feel free to peruse the selection of local wedding professionals and choose the ones that work best for you. We hope to see you at our next expo – contact us today for more information.
Opening Times: Sunday 8th November 2020 – 10:00am to 2:00pm.
With some of North Queensland's best and most sought after wedding professionals, all under one roof.
It will make Planning your Special Day so EASY!
With leading Fashion and Couture Designers, the Fashion Parades will not disappoint!
Fashion Parade Time: 12:00pm
Entry: $10.00 per person – at the door
Children under 16 free
Planning your perfect Wedding Day should be a fun and enjoyable experience that you should share with your family and friends, but above all you need the peace of mind knowing that the people that help create your Special Day are professional and the best in their field.
If you are getting Married in Townsville or North Queensland and you want to attend one of the best Townsville Wedding Fair, come along to the Ideal Bride 2018 Wedding Expo at the Townsville Entertainment & Convention Centre. 
Check out our 2018 Townsville Highlight Video – Thank you JC Filmz
Highlight Pictures from our November 2018 Wedding Expo 
thank you Qualis Photography
Ideal Bride – Expo Advice…
Outfit…
Where something comfy and not constricting. It can be a long day and is probably not the best time to be wearing your heels.
Trust me as exciting as it all is because when inside and you're the bride everyone will treat you like a princess and will all want to talk to you … this can get tiring especially when carrying a million brochures, gift bags and samples.
Wear your active wear because this is a marathon
Notebook…
Bring a pen and notebook with your notes from your research … this is also handy to jot down any notes when talking to vendors.
Or if booking with them on the spot it's a good idea to write down notes as well as taking a business card because let's face it we forgot or loose things all the time.
Email…
Create a specific wedding email address so that all your wedding information is in one place.
This is such a great idea! It's free to setup another email so why wouldn't you.
No need to sift through a million emails to find your wedding things.
Make it cute like mrandmrsstafford@ or jenandstandswedding@ or weddingofthecentury@.
Have fun with it.
Sign up forms…
THIS WILL BE THE GREATEST THING YOU EVER DO!!!
Print and cut out your details including *** Your name, Email, Phone number and wedding date.
Most vendors will have draws and competitions instead of writing your details over and over and over just use these pre-filled out entry forms!!! GENIUS RIGHT!!!!
If you only do one thing from my list of 6 make it this!
This will save you hand and your sanity.