With Celebrant Jamie Eastgate of Brisbane City Celebrants
Bride and Groom names – Rachelle and Jamie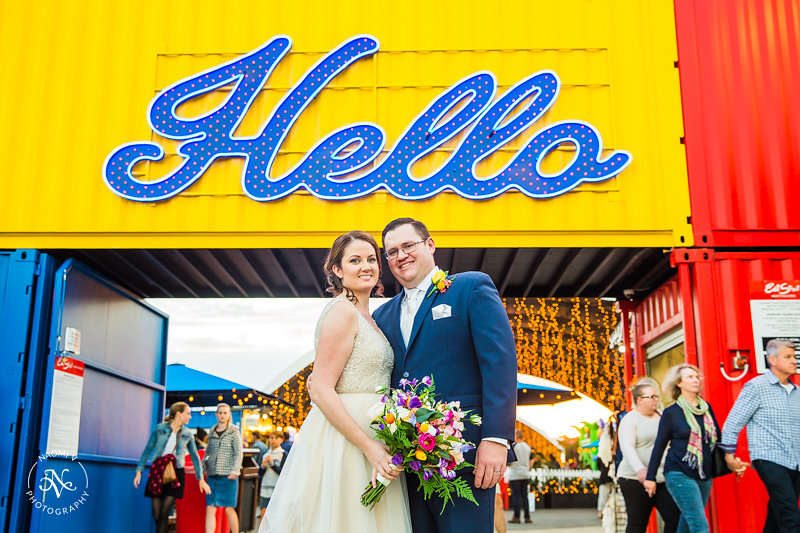 The Engagement
I love musicals, and Jamie bought us tickets to see Les Mis at QPAC for Christmas.
We loved the show, had a late dinner, and then walked along the Brisbane River at Southbank.
I was ready to go back to the hotel but Jamie was delaying and acting funny, I had no idea what was going on.
Eventually we were sitting on the third bench from the left, he pulled out the most beautiful ring I've ever seen, and said "I love you, and can't start to wait a family with you. Will you marry me?".
Of course I said yes, and there were tears!
I loved that he was so nervous he said "I can't start to wait a family with you", and we will always remember that special moment on the third bench from the left.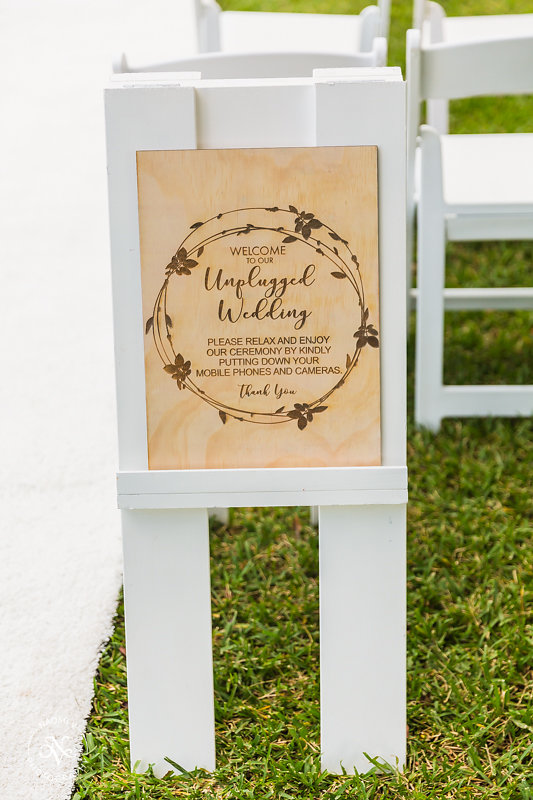 We chose Naomi Vasington from Naomi V Photography to do our wedding photos.
After looking at her photos online we loved that she had a style of photography that was genuine and natural.
We were looking for someone to capture the true emotion of the evening, and Naomi did a wonderful job!
Going back through our wedding photos has had everyone in tears.
We love that our wedding photos were more about the people, the emotions, and the relationships between us, than formal staged images.
It made it so much easier to be comfortable in front of the camera!
The Wedding Ceremony
We wanted our wedding day to be young at heart, fun, and relaxed, much like us.
Our ceremony took place on the lawn at Northshore Park near the Northshore Ferry Terminal.
We envisioned something simple but beautiful, where the focus was on us and the love we have for each other.
We had a wonderful ceremony officiated by Jamie Eastgate Brisbane City Celebrants.
Cara the talented ceremony designer at Brisbane Wedding Decorators created our ceremony setup which was just beautiful, and exactly what I was hoping for.
The simple ceremony arbour decor really let the background and the bridal party shine!
Thankfully the weather was sunny and mild, as we didn't have a wet weather backup plan, and the weather was predicting afternoon showers right up until the day!
We had a short and heartfelt ceremony and it was so wonderful to have our families on both sides celebrate together.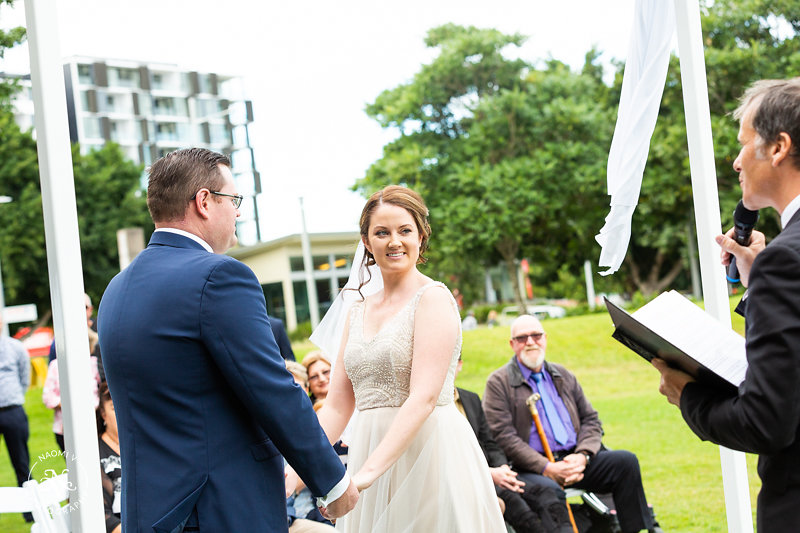 Our reception was held in the beautiful Riverdeck at Eat Street Markets.
We have always loved Eat Street Markets for it's good food and fun atmosphere, so it was perfect for our reception!
Many of our guests had never been there before, so it was a big hit with them!
We had some time between the ceremony and reception for our guests to explore the markets, and then had a variety of platters from the food vendors in the reception area.
We have always loved being outdoors and looking up at the stars, so we chose a silver and navy night sky theme for the wedding.
The Riverdeck had gorgeous wooden tables, decorated with lanterns with pineapples, ferns and fairy lights.
It was so quirky and different, we loved it!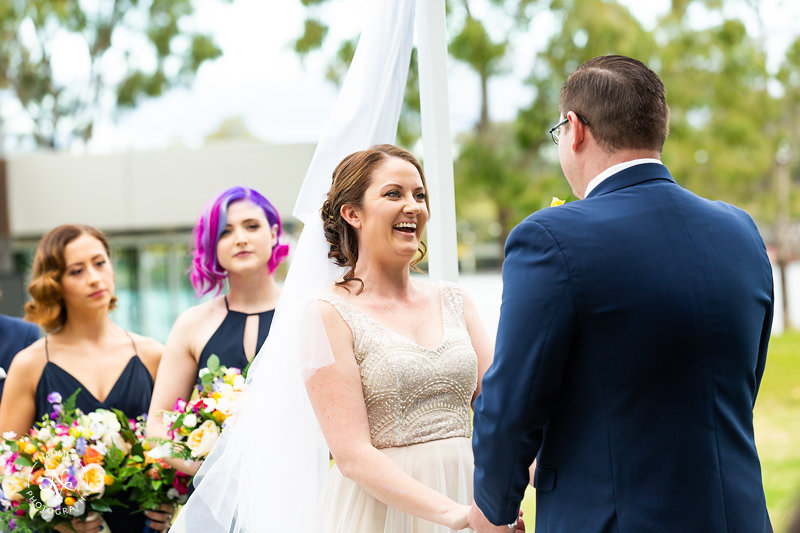 They also had a beautiful bar in the room wrapped in vines and flowers, and the lanterns on the ceiling gave the room a very special feel.
We had so many people saying 'congratulations' and clapping for us as we walked around, even the food vendors in their stalls were yelling out and cheering, and it gave the night such a special feel.
While we were getting our photos done there was a lady who came up to us with her daughter, who wanted to say hi because she thought I was a real princess, so we said hi and had a little chat.
It was little moments like that that really made the day feel even more special than it already was!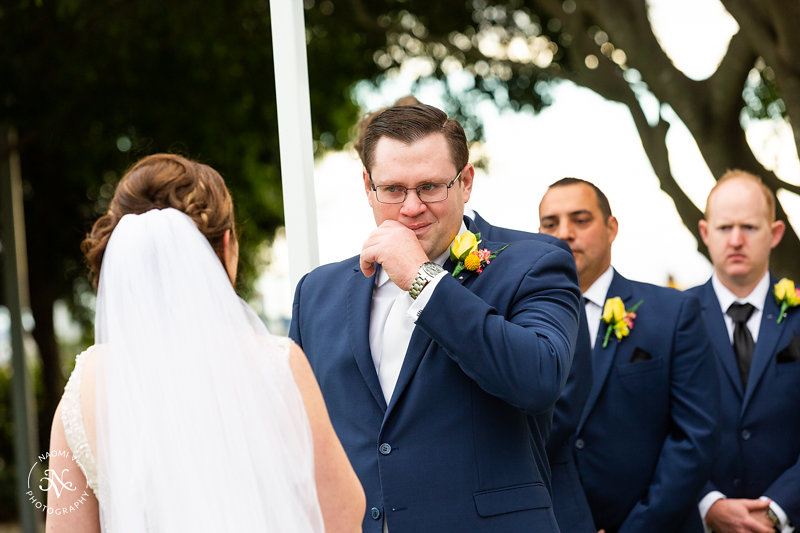 We had a cocktail reception with share platters from Eat Street Markets vendors, including oysters from Shuck All Oyster Bar, antipasto from Pizza/Pasta, Asian inspired finger foods from Tokyo Tucka, and chicken wings, pork belly and zucchini chips from Poulet and Porc.
We also had a number of guests go out and get food that they saw that they couldn't leave without trying!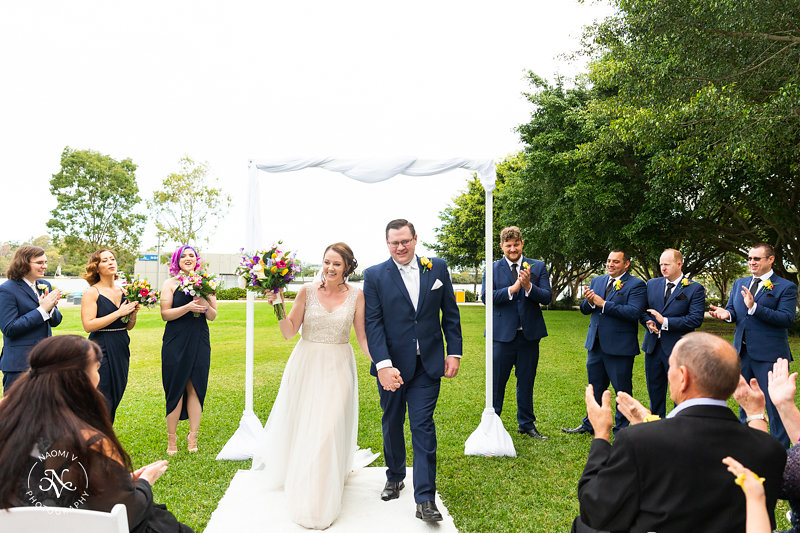 My wedding gown was made to measure by Wendy Makin Designs in Brisbane.
I had a very different idea going in of what type of wedding gown I wanted, but when I was trying on wedding dresses, I struggled to find one that looked and felt like me.
Prue was so wonderful, helping me try on dresses until I found "the one", and the reaction from my bridesmaids confirmed that we had found the dress!
It was a bit of a controversial choice going with the caramel colour over traditional white, but I just knew when I was in the caramel coloured dress that I felt like a princess, whereas the white didn't feel quite right.
I'm so glad I trusted my instincts and chose the dress that was right for me!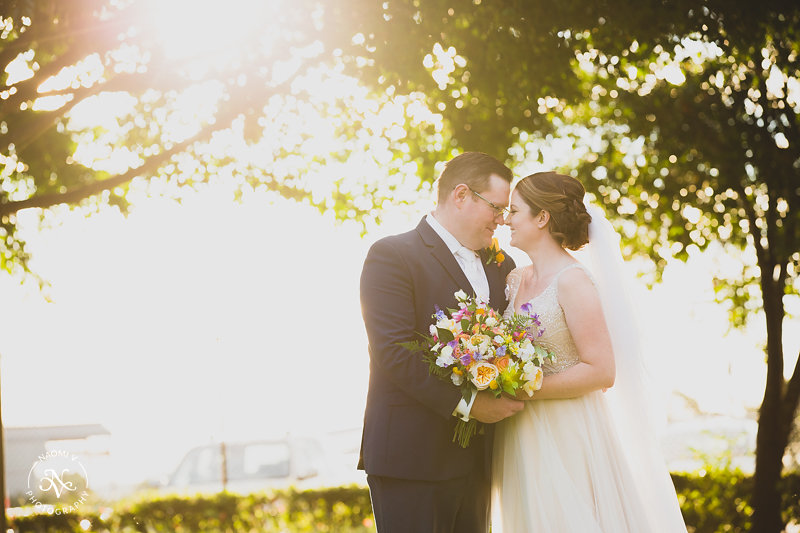 Flowers
Our flowers were an eclectic mish-mash of bright colours and pastels!
I knew that I wanted something big, beautiful and fun for our bouquets, and asked Amy at Elizabeth Rose Bridal to create us something that screamed happiness and joy, and we loved the flowers that she created!
They looked stunning!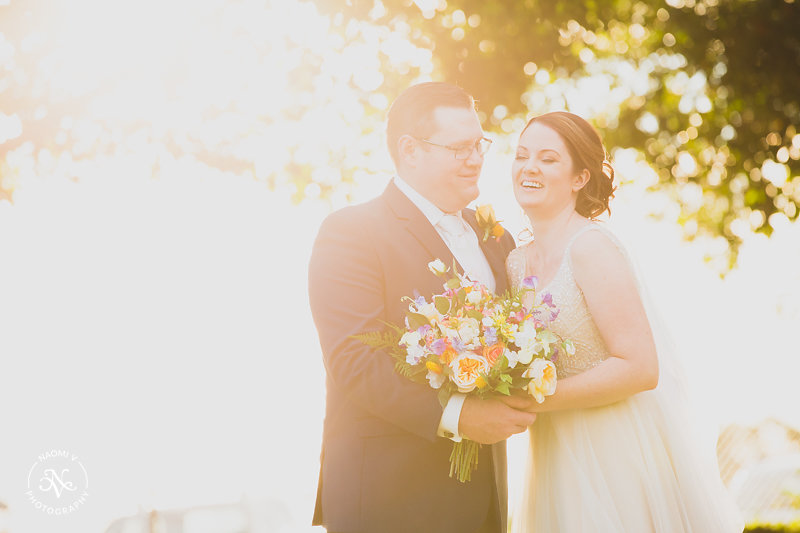 Cake
The cake was an amazing creation by Karlee's Cupcakes.
I think people thought we were a bit odd when we mentioned having a navy blue wedding cake, but Karlee has such a unique style, we knew she could pull it off!!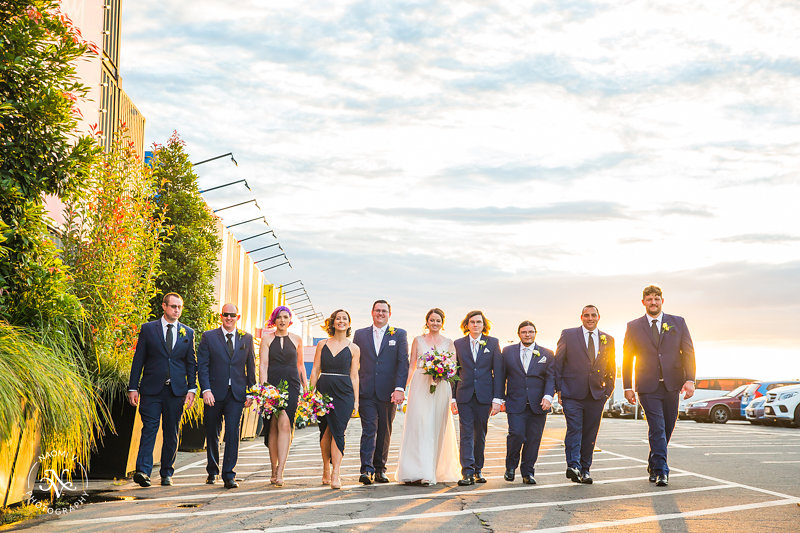 We had a 16 inch navy and white decorated cutting cake with a custom made "Mr & Mrs Parker" cake topper, and white and navy cupcakes for the guests with silver edible glitter.
The cupcakes were a HUGE hit, as we had a little surprise for our guests: anyone who ate the blue cupcakes temporarily had their mouths turn blue!
It was all fun and games until my 18-month-old son came up to me with a blue mouth!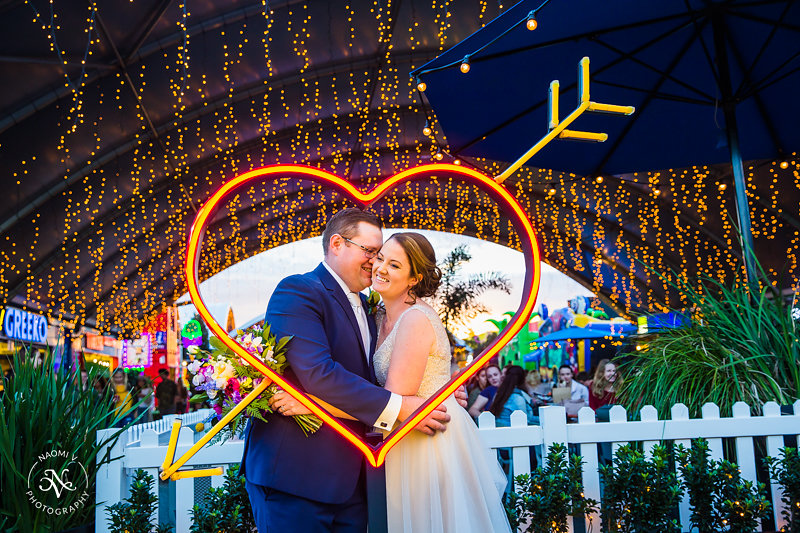 Wedding Vendors
Ceremony Styling by Cara at Brisbane Wedding Decorators
Marriage Celebrant Jamie at Brisbane City Celebrants
Photography by Naomi V Photography
Wedding Dress by Wendy Makin Bridal
Hair by Bethany Prickett Makeup Artist
Makeup by Fine Line Beauty by Amy
Cake by Karlee's Kupcakes 
Flowers by Elizabeth Rose Bridal
Reception at The Riverdeck Eat Street Northshore