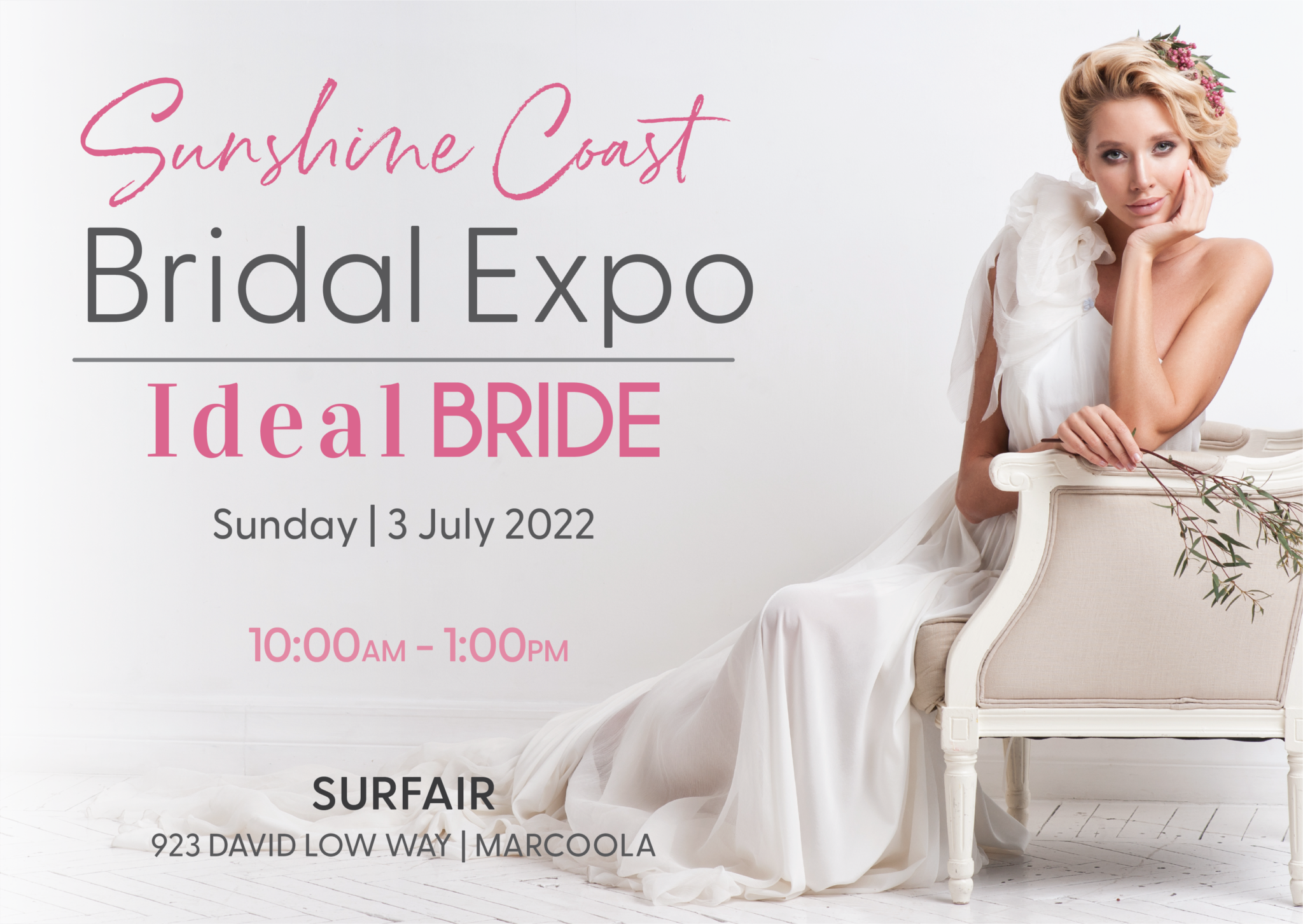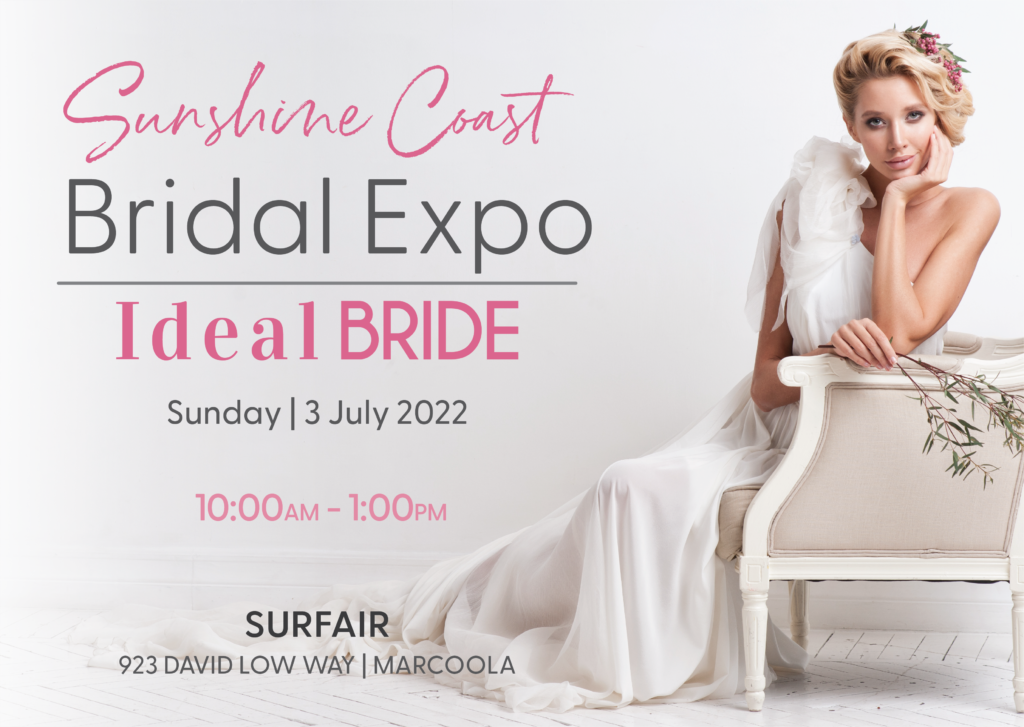 Sunshine Coast Wedding Expo
We will be holding our next amazing Sunshine Coast Wedding Expo at the absolutely stunning Surfair Beach Hotel in Marcoola
Featuring some of Queensland's best and most sought after wedding professionals, our expos make it easy to plan your special day!
Date: Sunday 3rd July 2022
Time: 10:00am to 1:00pm
Location: Surfair Beach Hotel – 923 David-Low Way, Marcoola, 4564
Entry: $5 Per Person (At the Door)
** Children under 16 FREE **
** Bring your whole Bridal Party for a Maximum of $20 entry !!
(You only pay for 4 people in your bridal party) **
Join our Facebook Event to stay up to date!
COVID-19 Key Health Message:
Stay at home if unwell or have a cough, fever, sore throat, fatigue or shortness of breath.
Seek assistance if becoming unwell during the event (locate security, event officials or first aid).
Maintain physical distancing requirements.
You will be asked to complete a COVID-19 Check In Form on entry of Expo.
Bring your Fiancé, Bridesmaids and family to help make the decisions & enjoy the day together….
FREE parking!
Our amazing wedding expo will feature everything you need to plan your perfect day, with friendly and experienced wedding industry professionals all under the one roof….
Everyone WELCOME!
For more information contact Ideal Bride:
0417 735 497
Visit our Facebook page for all the latest news!
2018 Highlight Video By Sunshine Coast Videography
Attend a Wedding Expo on the Sunshine Coast for Efficient Planning
A wedding expo on the Sunshine Coast gathers the best wedding vendors in the area to present their best offers for your consideration. Having multiple vendors in one place saves you time and effort while planning your big day. Ideal Bride strives to offer the area's best wedding suppliers in one place to ease your planning woes. We want your day to be as special as your love for one another so we work to present the latest options available for your wedding.
Benefits of Wedding Trade Shows
Planning a wedding involves so many details that can be somewhat overwhelming and cause undue stress. Attending a wedding show offers you the opportunity to view different vendors at once and go home with a great start for your special day.
Flowers, cakes, and photos are just some of the items that require a decision and having numerous vendors under one roof allows you to peruse local blooms, taste different cakes and view photography portfolios so you can find the perfect one for your big day.
Vendors love to give things away so be sure to sign up for every giveaway. You might get lucky and end up with a paid honeymoon or a free wedding dress. Bring pre-printed labels with your contact information and wedding date to make this process faster.
Almost everyone has a phone with a built-in camera. Use it to take photos of the things you especially love so you can coordinate everything when you get home.
Attend a Wedding Expo near Noosa to Make Wedding Planning a Snap
Planning a wedding takes time and patience so start it off right by attending a wedding expo in Noosa that has all the vendors you need in one place. Wear comfortable shoes for an extravaganza that will start filling your wedding book with the latest wedding trends for your special day. Ideal Bride focuses exclusively on wedding planning to help you find the right flowers, food, and couture that expresses your individual tastes.
What You Can Expect from Ideal Bride Regarding Bridal Expos near Noosa
Our bridal expo in Noosa will provide you with so many options it will be hard to keep track of them all if you're not organised up front.
There will be numerous vendors in attendance with contact cards requesting information. Bringing pre-printed labels that include your name, wedding date, email, address and phone number will save you time filling out endless enquiries and allow you to inspect every vendor thoroughly.
Have your smartphone ready to take photos of details you like to compare and review later. Taking pictures allows you to gather the most from the event without taking notes.
Many vendors will be giving away wedding swag that could help offset some of your wedding day and honeymoon costs. Be sure to enter all of them for the best chance of receiving prizes to start your planning off right.
Problems Ideal Bride Addresses
Now that you've set the date, there's a myriad of decisions to make before your big day. Trying to find caterers, florists, photographers, and wedding cakes can take up a lot of your time.
Our bridal showcase gathers the most sought after wedding professionals under one roof so you can peruse a variety of vendors who want to make your day special.
With everyone under one roof, you can sample different cakes to help you choose the right baker, taste offerings from caterers, view photographers' portfolios, and speak with local florists regarding seasonal blooms.
Our bridal showcase wouldn't be complete without a fashion show that highlights the latest trends in bridal and wedding party gowns, men's tuxedo and suit options, and outfits for the smaller members of your bridal party.
Attending a bridal expo in Noosa allows you to browse the latest wedding trends from food to clothing to help plan your perfect day.
What You Can Expect from Ideal Bride Regarding a Wedding Fair on the Sunshine Coast
Our love of weddings shows in the effort put forward at our shows. We gather the most sought after wedding vendors for you to meet with to help you start the planning process.
We have stringent guidelines for our vendors, so you are sure to receive the very best services available in your area.
We hold our events at lovely establishments that cater to weddings so you may find your venue while shopping for floral arrangements.
A wedding show wouldn't be complete without a fashion show highlighting the latest trends in wedding attire for both him and her.
What You Stand to Lose if You Don't Use Ideal Bride
Planning the perfect wedding takes a lot of time and energy. Attending a bridal expo allows you to speak to numerous vendors in one day saving you time compared to seeking them out separately. Our shows cater to brides and grooms so you can make decisions together regarding your big day. Or bring your wedding party to help you decide which options will work best for your special day and help you keep track of the choices.
Start your wedding planning with us and reduce the stress involved in planning your event. We're always available to answer questions and look forward to hearing from you regarding our selection of vendors. Contact us directly with questions or to see when the next expo will be available in your area.