When two people who celebrate love as their profession, decide to renew their vows for their 10-year wedding anniversary, you just know we're in for something special. Thank you for sharing Brisbane City Celebrants……
Celebrant duo Cara and Jamie form Brisbane City Celebrants who were originally inspired to become Celebrants following their own wedding 10 years ago, travelled to the picturesque Maldives to celebrate 10 years of marriage and say 'We Still Do" in a happiness filled ceremony at a beautiful overwater wedding chapel.
Cara fills us in on all the details of their special day.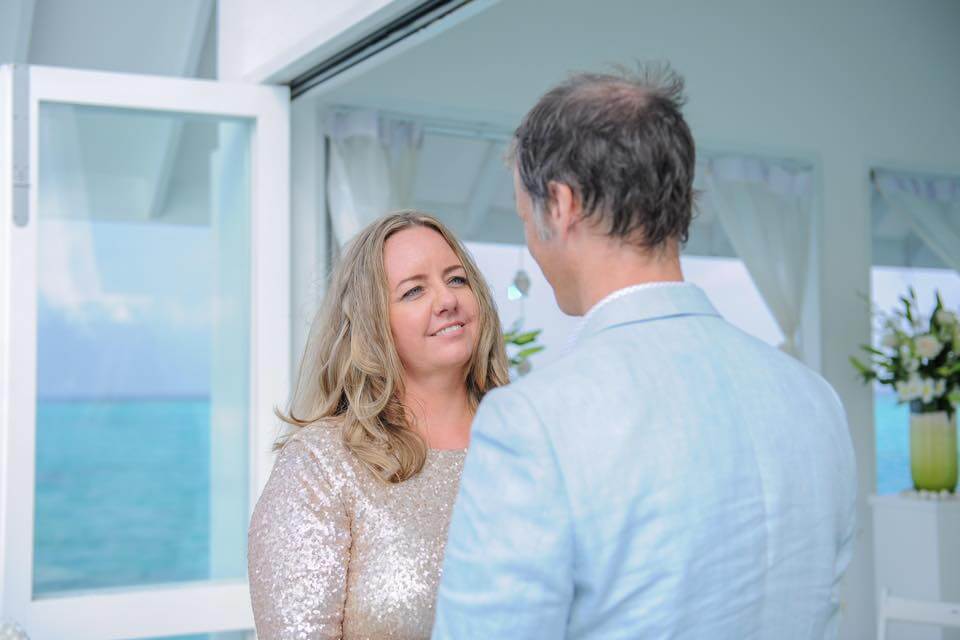 "Even better than our wedding!"
We envisioned a relaxed and thoroughly enjoyable day surrounded by the crystal-clear sea.
Our ceremony took place at the overwater wedding pavilion at Four Season Landaa Giraavaru, it truly was a dream destination wedding location!
We sailed to the over water pavilion in a traditional Maldivian Dhoni boat, it was such a picturesque way to arrive, all the staff made us feel so special and we were giggly with excitement by the time we arrived at the stunning over water pavilion.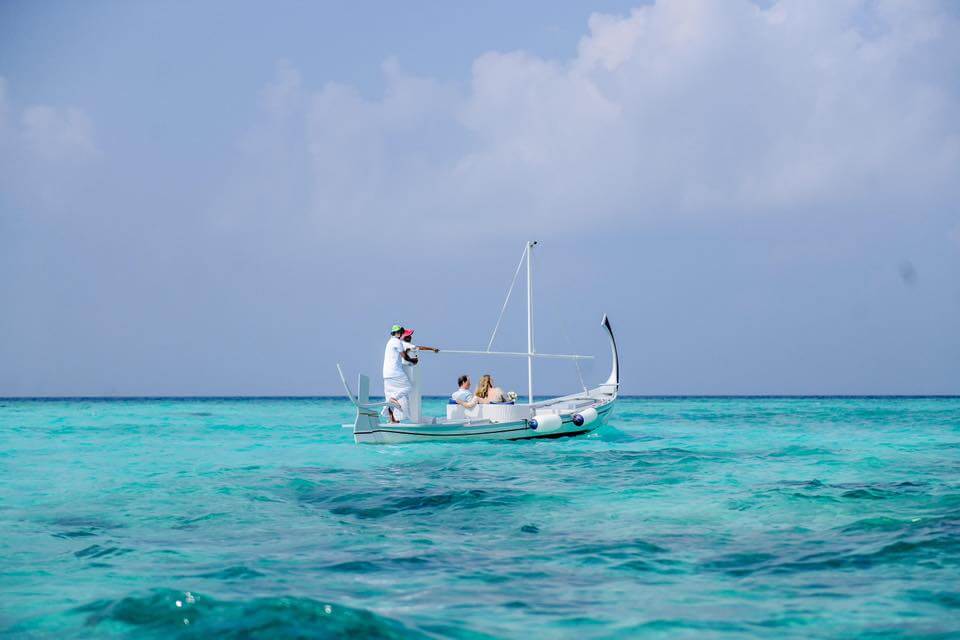 On arrival the islands band played the drums and sung traditional song. We made our way down the clear glass aisle together which beautifully showcased the sparkling ocean beneath, then we turned to each other and joined hands.
Admittedly, our Celebrant hats went back on momentarily as we both ensured we were perfectly centred at the alter!
The overwater pavilion was decorated throughout with fresh ivory roses and orchid arrangements especially for us.
Our custom-made sign by 'Brisbane Wedding Decorators' with the words 'We Still Do' added to our floral arrangement ceremony backdrop and tied in perfectly with our ceremony wording.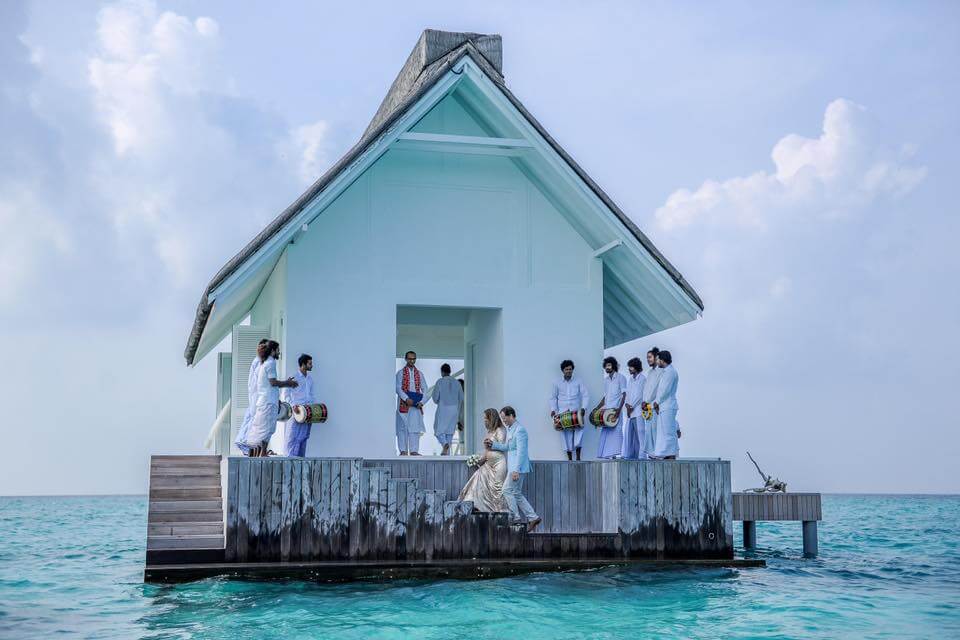 Our ceremony was an opportunity to celebrate our relationship and our marriage, recognising the challenges we've faced together over the past decade and celebrating the triumphs.
Cara tells us "Being a Celebrant, I couldn't resist writing our own ceremony which reflected on our journey together and how we've continued to grow both individually and as a couple.
I managed to keep the wording a surprise from Jamie who heard it for the first time on the day, which made our ceremony even more special."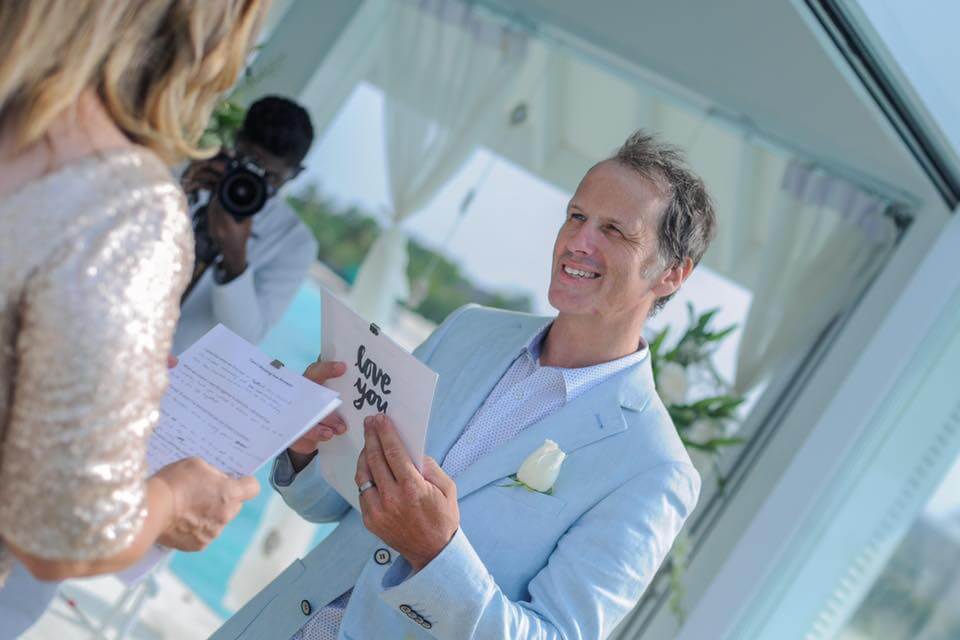 For our vows, we agreed on 8 statements, which we wrote privately before sharing for the first time during the ceremony.
Our words to each other were so in tune, we read each vow in turn and aww'd, smiled and giggled at the words we used to describe each other and the memories we shared.
Our ceremony was the perfect balance of meaningful and light hearted, as our eyes locked, we laughed, we fist pumped and we didn't stop smiling.
It was such a special moment. We kept our ceremony short and sweet which was perfect.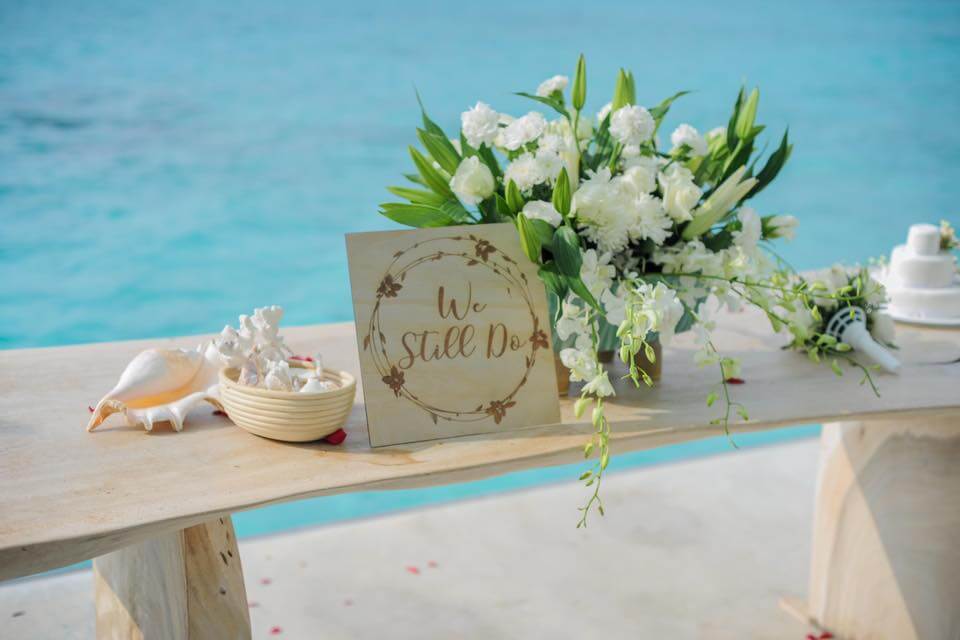 10 years of LOVE
After our ceremony we headed to the sand spit beach for sunset photos, the team of Photographers asked us to stand facing them and walk backwards towards the sea.
With a drone hovering above us, we took a few steps backwards as instructed, then the Photographers all yelled in unison "turn around now', thinking they were just giving us direction, we couldn't believe our eyes when we turned to see huge words dug out in the sand reading '10 years of love'!
It was such a special moment! We love how beautifully the drone footage in our highlights film captures this special memory.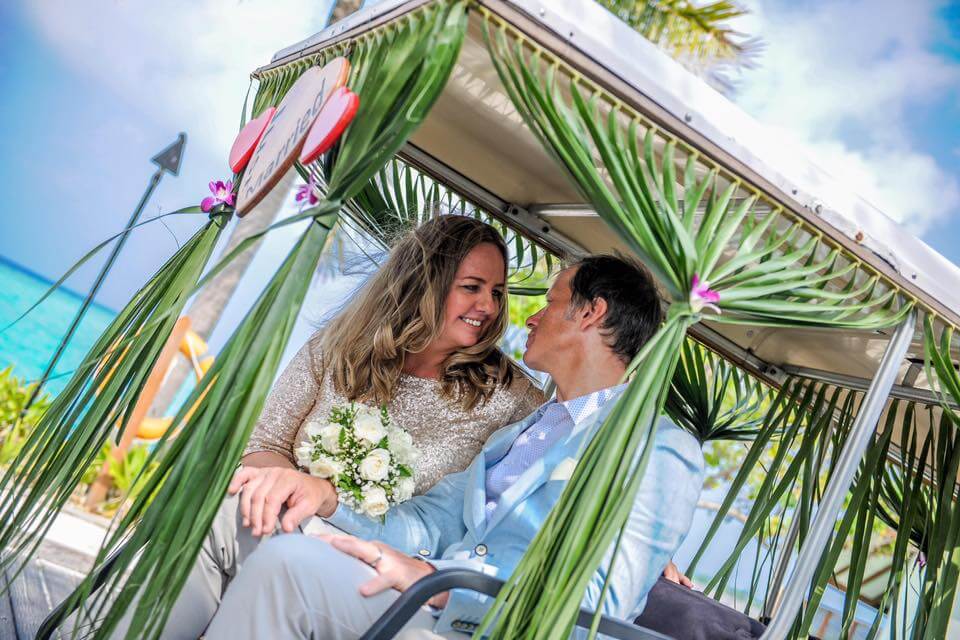 Our reception for 2 took place on a floating wooden deck in the sparkling lagoon.
It felt so romantic and private and it was just amazing to watch the sun slowly set in its breathtaking Maldivian style, lighting up the sky.
We knew this was a once in a lifetime experience and we savoured the moment.
Our mid ocean dining experience included a delicious 4 course meal accompanied by chilled champagne, with the waiter returning by boat to serve each course.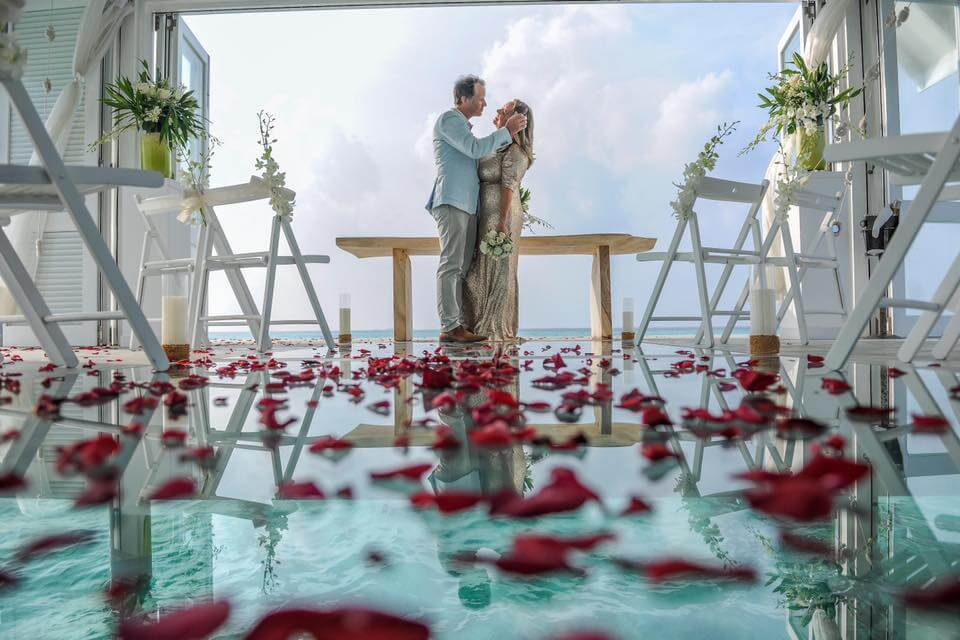 Our vow renewals was such an incredible experience so we would love to continue the tradition and renew our vows every 10 years, so I guess we have 10 years to start planning our next vow renewals!
We feel our own first-hand experience of renewing our vows has better equipped us for writing genuine and authentic vow renewal ceremonies. It also allowed us to explore new ways of writing 'vow renewal vows' which we are so excited to share with our vow renewing clients!
View the highlight film of Cara and Jamie's Vow Renewals here: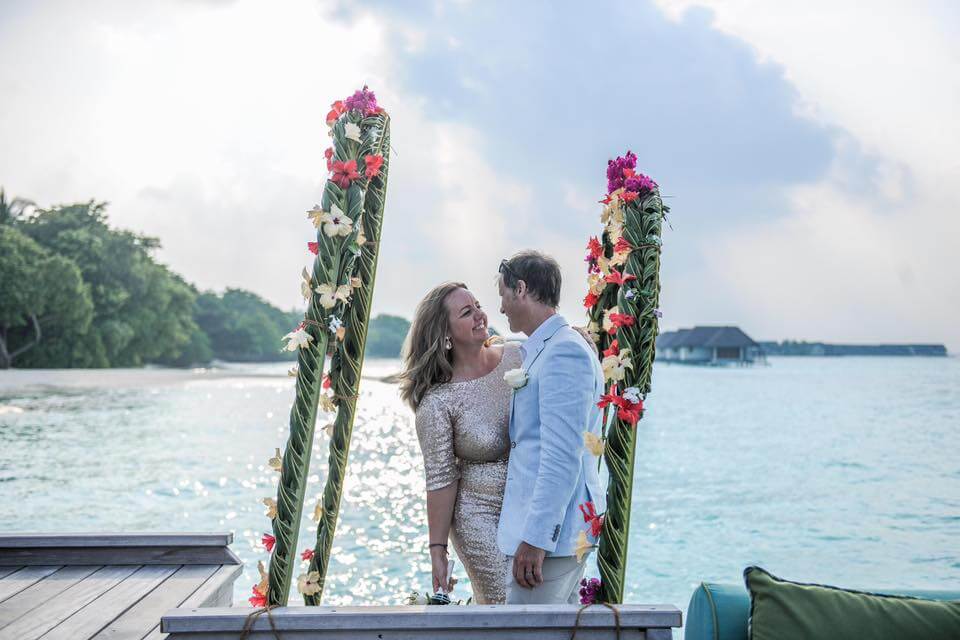 Cara and Jamie's 10 year vow renewal dream team
Photography and Wedding Highlights Film by Digital Studio Maldives
Ceremony and Reception Location Four Seasons Resort at Landaa Giraavaru
Ceremony Design & Wording Brisbane City Celebrants
Wooden Sign Hire Brisbane Wedding Decorators
Brides Dress When Freddie Went Lilly
Brides Shoes Christian Louboutin
Grooms Suit Jacket Urbbana