Written by: Germanicos Bespoke Tailors
There are many different choices when it comes to wedding suits.
From off-the-rack to made-to-order to bespoke wedding suits that are truly one of a kind, your special day should be reflected by how you feel in what you are wearing.
Off-the-rack are just that, a quick and easy purchase, but they are not made to suit your body or personal needs.
Made-to-order wedding suits seem ideally customized, but truthfully, these are still made to suit a body type and not the individual curves and lines of your body.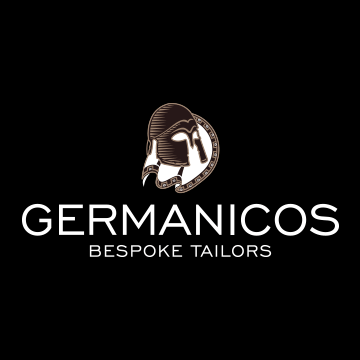 A bespoke wedding suit has a voice of its own, a character and body line of its own, that is perfectly in sync with the wearer.
A bespoke wedding suit is an extension of the owner and an authentic representation of the body, personality, and spirit within.
Once you have decided on the bespoke route, your next decision is on the suit type and style.
Below are 5 types of bespoke wedding suits worthy of considering.
With a qualified tailor by your side, you can be involved in all decisions from fit to fabric, lining to buttons, and lapels.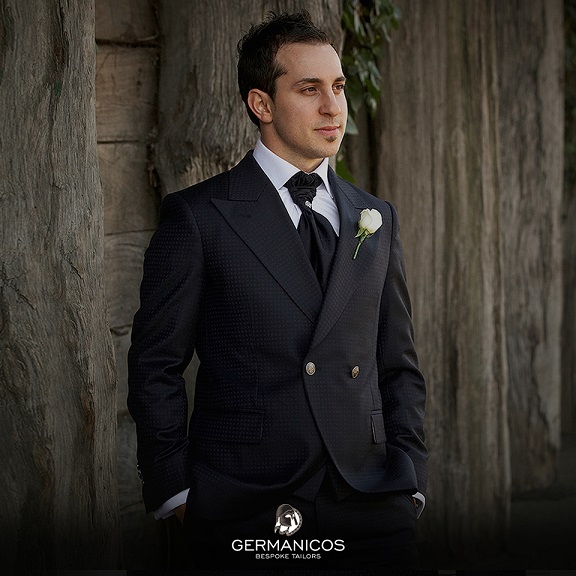 Tuxedo
There are few things more timeless and elegant than the black/midnight blue and white wedding tuxedo.
A bespoke tuxedo will not only be flawless in its fit and comfort, it will be 100-percent tailor-made to suit every contour of your body, your personality, and your personal needs.
If you are planning on a lot of dancing on your wedding day, a flexible and sweat-wicking fabric will be a priority.
Choosing your fabric is as important as the fit, and a qualified tailor will know exactly what tuxedo fabric should be chosen for your day.
Tuxedos also provide a very sharp and debonair look to capture in those wedding photographs.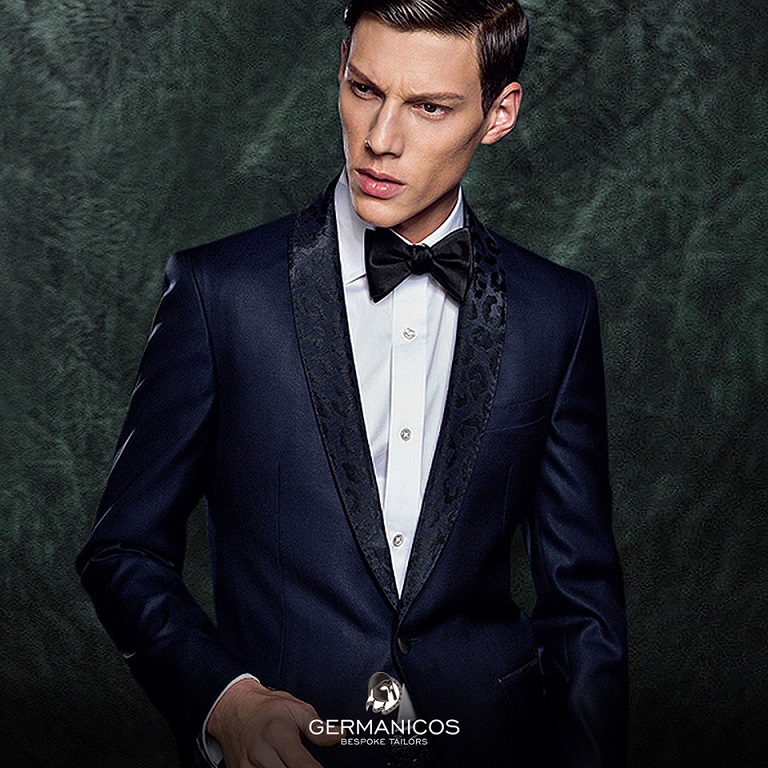 Tail Suit/Morning Suit
Known as the most formal type of day dress for men, a tail suit/morning suit is the perfect choice for a traditional daytime wedding.
The cutaway skirt gives the morning suit its formality and traditional flair.
The single-breasted body coat will close with a single button or closure.
Pointed lapels and silk piping are other defining characteristics of the stylish wedding suit option.
With a bespoke tail suit/morning suit, the elegant cut of the skirt from waist to hem, the choices for piping and the coat closure are all details you can breathe your input and personality into on your wedding suit.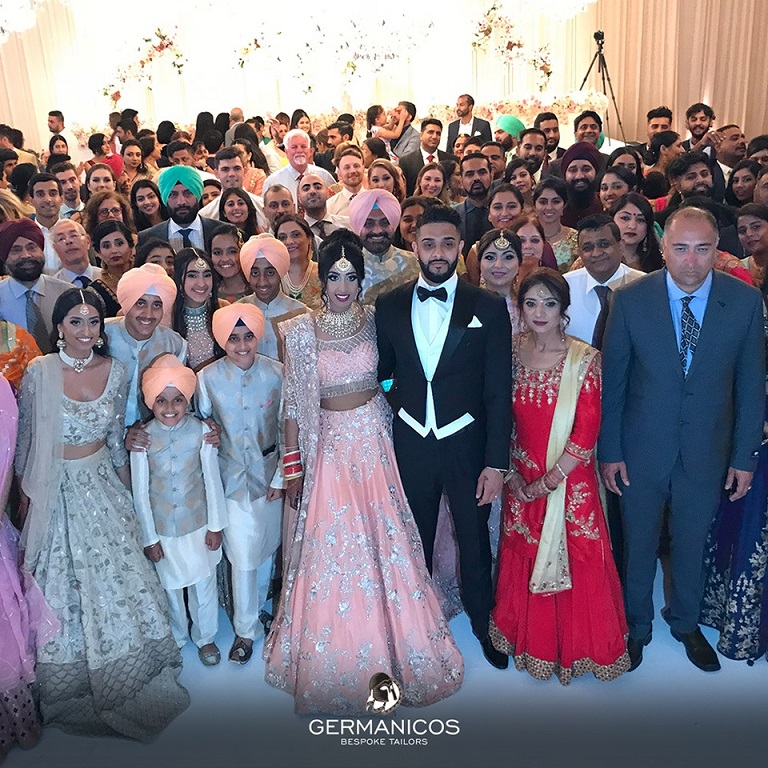 Morning Suit
3-Piece Suit with Waistcoat
The classic 3-piece suit with waistcoat never has and never will go out of style.
The cut is extremely flattering for men, and it is a timeless and fun way to stand out.
The v-cut of the vest is known to accentuate a man's chest in a flattering way, while the layering is ideal to deal with weather changes and different looks for photo opportunities.
With a bespoke 3-piece wedding suit with a waistcoat, there are numerous places you can customize to reflect your personality from the slacks to the coat, and of course the sexy waistcoat.
I have yet to meet a bride that does not love the look of their man in a waistcoat at the end of the aisle.
From fabric to the lining, piping to buttons, the cut, and the lines, being a part of the design and tailoring of your wedding suit with waistcoat will be a process as rewarding as it is dashing to behold.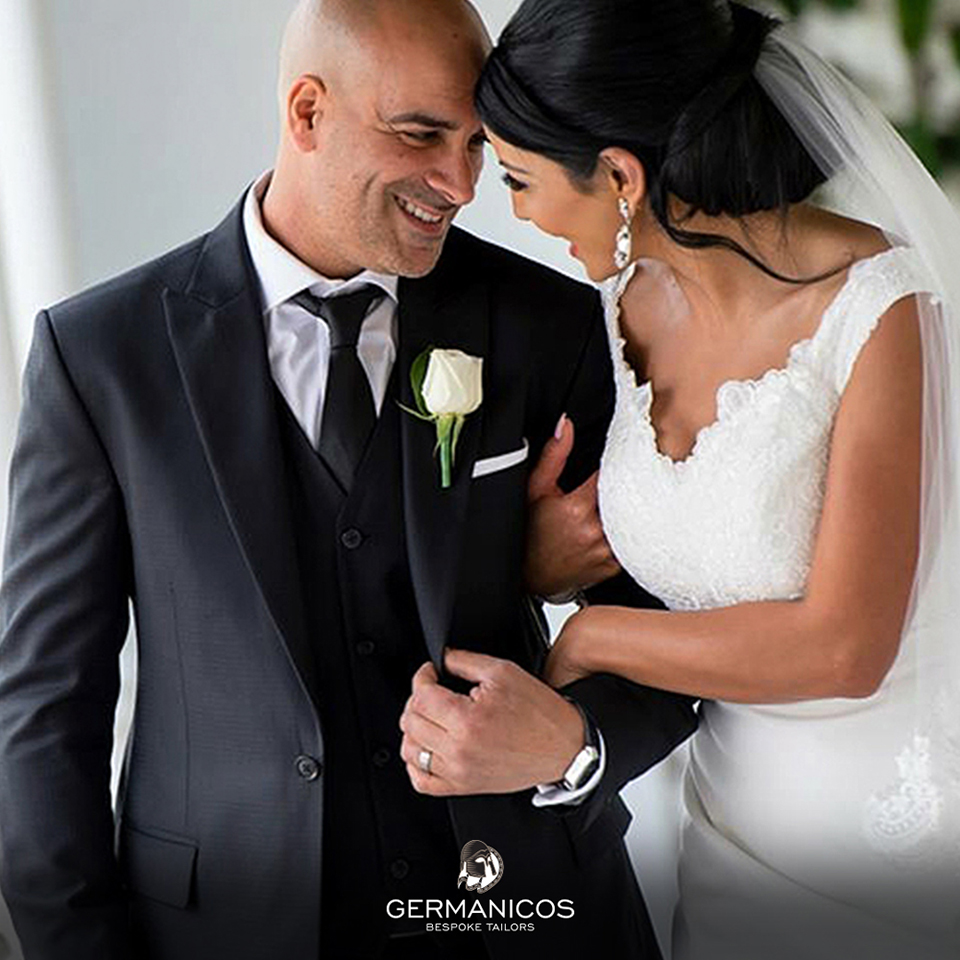 Tailored Suit
When it comes to choosing your wedding attire, a tailored suit can make you feel like a king.
Having a bespoke suit for your wedding day might just mean you will never wear an off-the-rack again.
While there are high-end off-the-rack suits available, after you have been fitted for and had a tailored suit hand designed and created for you, chances are you will never look back.
Height, body shape, shoulder slope, posture, and measurements are all elements that will be factored into your tailored wedding suit.
There will also be unique fabric options available to you through a tailor that otherwise would not be an option.
Not only should you feel comfortable in the fabric's look and texture, the suit should fit like nothing less than a glove.
A bespoke wedding suit will make you look and feel just as you should.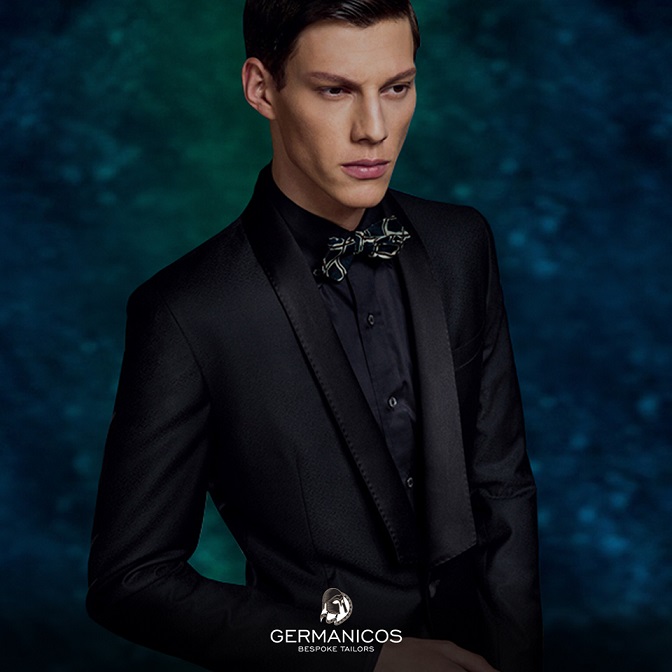 Dinner Suit
The dinner suit is also referred to as a 'semi-formal tuxedo', a 'smoking jacket', and 'black tie'.
Ideal for formal evening wedding attire, a common consensus across the wedding-attire etiquette board is that a dinner suit should only be worn after 6 o'clock, hence the 'dinner' designation in the title.
Again, rental dinner suits are made to fit a type, not a person.
Having a bespoke dinner suit is the only way to ensure that your suit is perfect for you in every measurement, and this will be accomplished through numerous fittings with your tailor.
For an elegant evening look, a tailor-made dinner suit is a fun and whimsical way to make a big splash at your wedding reception, after 6, of course.