Shared by: Ed Harry
What better way to start a happily ever after than with a love-filled, intimate wedding ceremony in beautifully landscaped grounds surrounded by trees, fountains and gardens.
Newlyweds Sam & Bek did just that when they decided to hold their wedding ceremony at Toowoomba's Warwick Street Chapel earlier this year.
The 80-year-old Queensland chapel was an inspirational setting and had all the makings for an unforgettable wedding day.
Dressed for the Occasion…
The day was spent by the couple celebrating on the breathtaking grounds with close friends and family.
It was clear by their style choices that the wedding party thought ahead and put together the right combinations to make sure that their attire was as stunning as the grounds.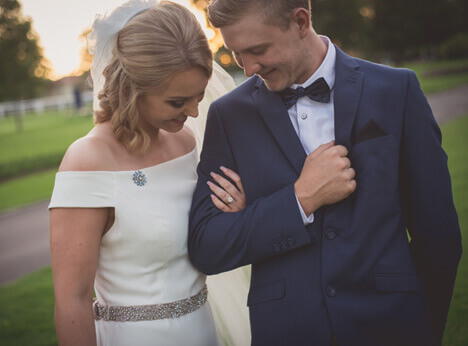 Sam and his groomsmen kept it all class, wearing the Samuel Suit and white York shirts with blush bow ties (paisley blue for the groom) for the big day.
They capped off their stylish tailored look with tan belts and shoes.
Of course Bek stole the show in the end but Sam and company made a handsome supporting cast.
Thanks to Matt Edwards Photography for these amazing images.