Thank you to our Guest Contributor Megan Wenzl for this wonderful advice…
Effervescent flowers, draping silk linens, towering elegant candles – and more!
When envisioning your wedding, you likely view the reception as a whole, however, what creates the look of the décor concept you have chosen are the pieces that are placed on your tables.
It may be difficult to visualize how individual components on a table can embody your wedding vision and personal character. However, one of the best parts of the modern wedding is that almost everything has become unique to the couple. Even the most necessary of items can (and should) say, "This is who we are!"
Much like planning a wedding itself, what you put on reception tables can be broken down into more manageable elements. To help you keep track of everything you should put on your reception tables, we have compiled a list of the necessary items below.
Wedding Reception Tables Checklist…
1.Linens
Linens are the cornerstone of the wedding reception table. Whether you choose to drape formal tables in floor length velvet or adorn wooden farmhouse tables with textured runners, the perfect linen will compliment the décor concept you have chosen, and soften the look of even the most rustic of elements.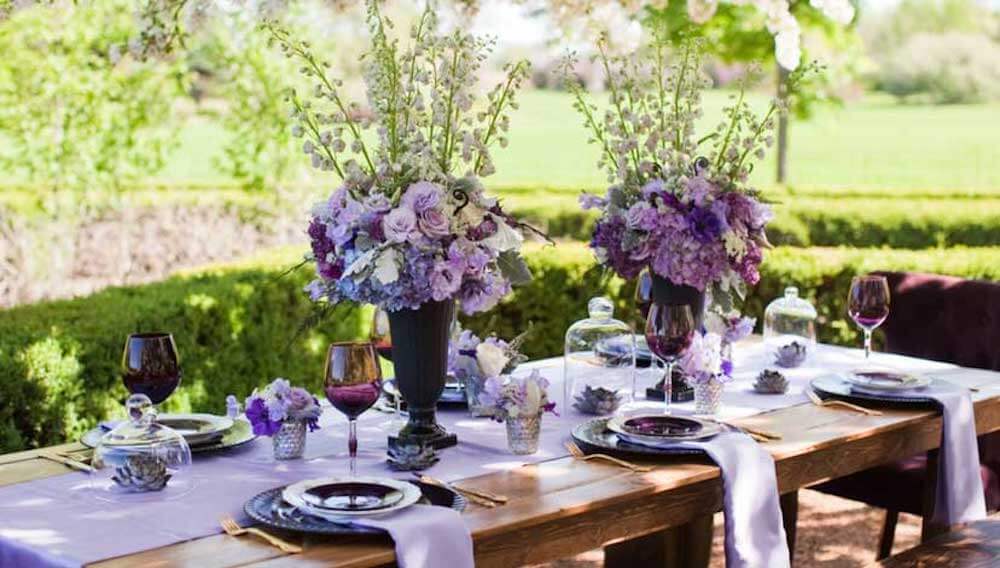 According to an article by BBJ Linen on vintage wedding themes and classic décor, creating an unforgettable wedding experience for your guests is equal parts design concept and detail. Often times both begin with the perfect linen.
2.Place Settings
Place settings may seem rather straightforward when designing your reception tables. Chargers, plates, flatware, favors and stemware are classic pieces to include. This is a perfect place to let your uniqueness as a couple dazzle. Colorful china, distinctive wine glasses, a small token of appreciation, a custom menu of the delicious meal to come… these are all elements that will set the tone for your guests from the moment they are seated.
A quick note; be sure to include enough flatware for the meal you are serving and don't forget napkins that compliment your chosen linens!
3.Centerpieces
Nothing embodies the décor concept you have chosen quite like the perfect centerpieces. Whether you choose towering candelabras draped in crystal and perfectly paired florals or classic vases surrounded by heirloom style touches (such as faded family photos), the centerpiece you choose should undoubtedly convey the overall theme of your wedding. How you accomplish that is entirely up to you, so let your creativity flow!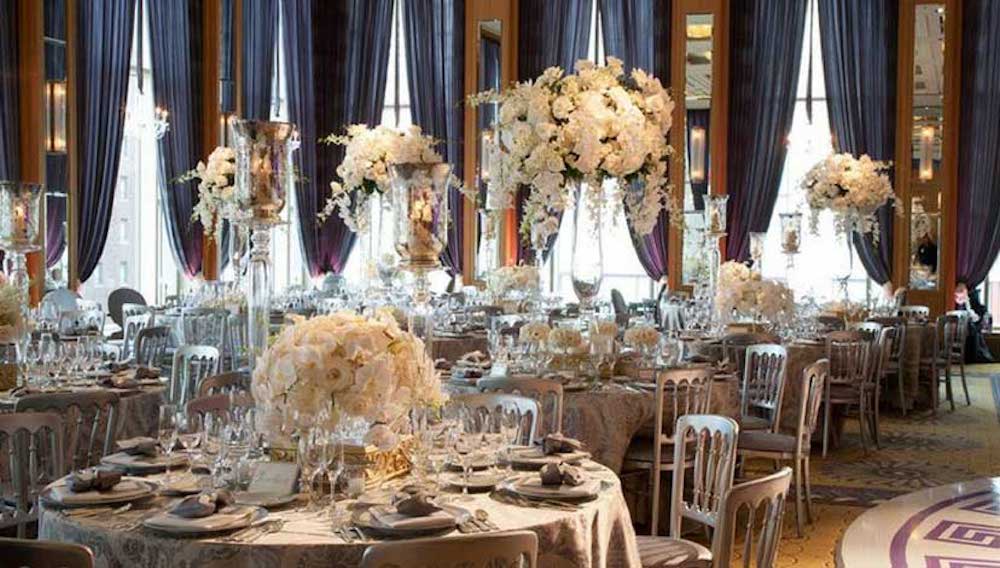 4.Table Number & Place Cards
Last but certainly not least, table numbers and place cards may seem less exciting than the other items you'll be adding to your tablescape, but they are probably the most important items at your reception. No one wants to be wandering around a venue with no direction! Should you decide on informal seating, let your guests know in advance to avoid any confusion.
There is a lot about even the most unique of weddings that is still requires some traditional planning. Once you've chosen the necessities for your tables, make them your own! Don't hesitate to emphasize even the most traditional reception tables with fabulous personal touches.
It is these personal touches that will be recalled by guests long after the wedding has come to an end.