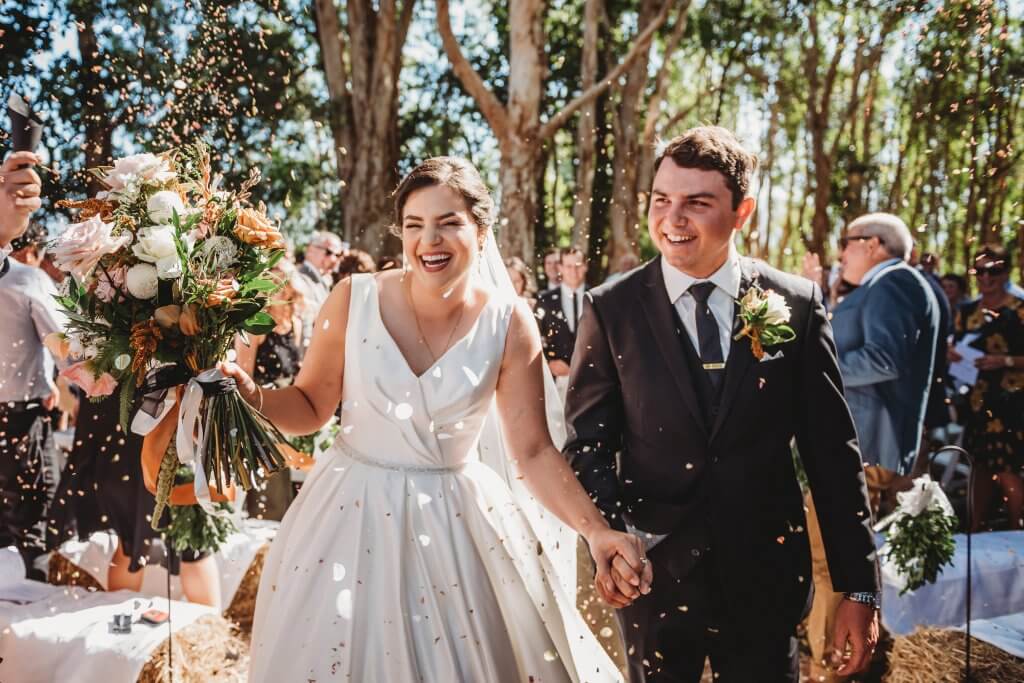 Brides Name:
Lauren Pace
Grooms Name:
Jeffrey Pace
How did you and your partner meet?
Family and mutual friends
Who proposed?
Jeffrey
How long were you engaged for?
11 months
Wedding Date?
14/09/2019
How many guests attended your wedding?
140 people
How did you choose the perfect Reception Venue?
Our reception was held at Jeffrey's family's pineapple farm in Rollingstone QLD (about an hour north of Townsville). We both wanted to have our wedding at home on the farm. It made sense to hire a marquee and set it within the gardens of Jeffrey's parents home.
Tell us about your Wedding Gown:
Luv Bridal "Panya" dress. Beautiful satin with a full circular train and a thin beaded belt. A classic style that was comfortable to wear and it had pockets!
Tell us about your Wedding Suit:
Hire suits from New Park Mens Wear in Townsville. Classic Black suit.
Tell us about your cake/flowers/entertainment/etc:
Florals by St Floral. Flowers are my thing so I wanted to have statement floral pieces at my ceremony and reception. For me my bouquet was the standout, with big Anthuriums, magnolia leaves, paper daisies, pompom chrysanthemums, coffee roses and a white phalenopsis orchid spray.
What sort of style did you envision for your wedding?
We aimed for a modern tropical style in a country setting. We went for a classic black and white theme, with burnt orange/copper and touches of gold.
What was your favourite part of the day?
Walking down the aisle for the first time as husband and wife with our family and friends showering us with dried petal confetti.
Any advice for future Bride and Grooms-to-be?
Savour a moment with your partner to take it all in as the day goes so quick, it will be over before you know it. The usual advice of somethings may go wrong but at the end of the day you just married your person and that's all that really matters! Its easy to lose steam during the planning process but the more you can plan and organise in the months before, the less you need to do in the days leading up to the wedding.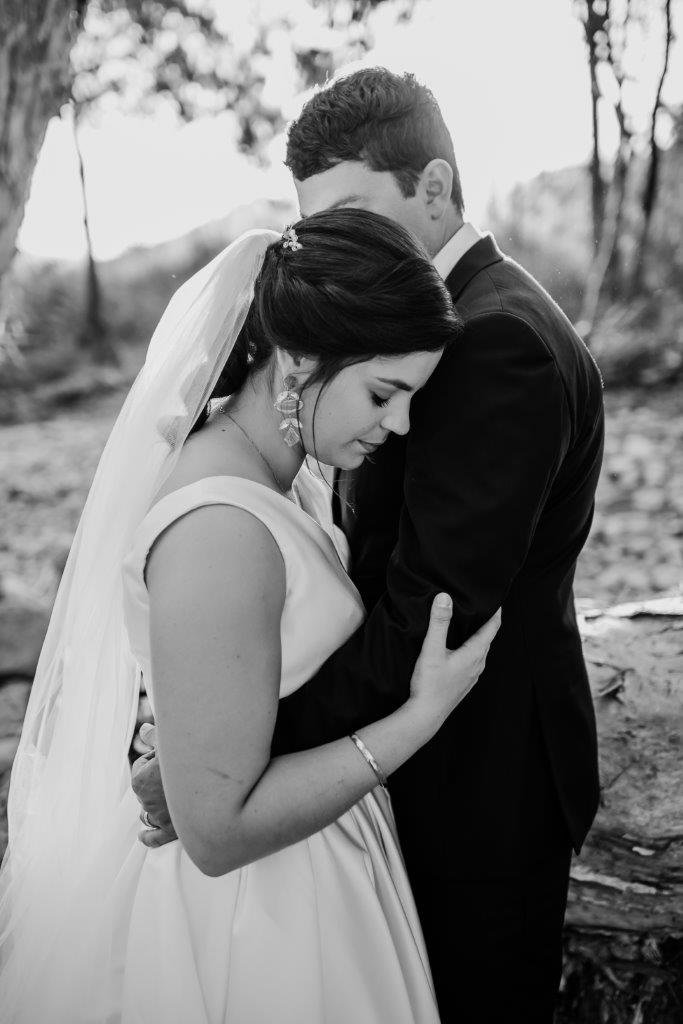 Where did you go on your honeymoon?
Bedarra Island off the coast of Mission Beach, QLD.
List of companies/suppliers at your wedding:
Photographer: Renee Liddle Photography
Makeup: Urban Miss Makeup
Marquee: Ede Events
Florist: St Floral
Bridesmaid Dresses: Shona Joy
Groomsmen Suits: New Park Menswear
Bridal Gown: Luv Bridal Townsville
Hair: La Dah Hair Boutique