Suzy & Braydon met for the first time at Flight Centre's Valentine's Day buzz night work party. Braydon gave Suzy a little confetti love heart which she still has to this day.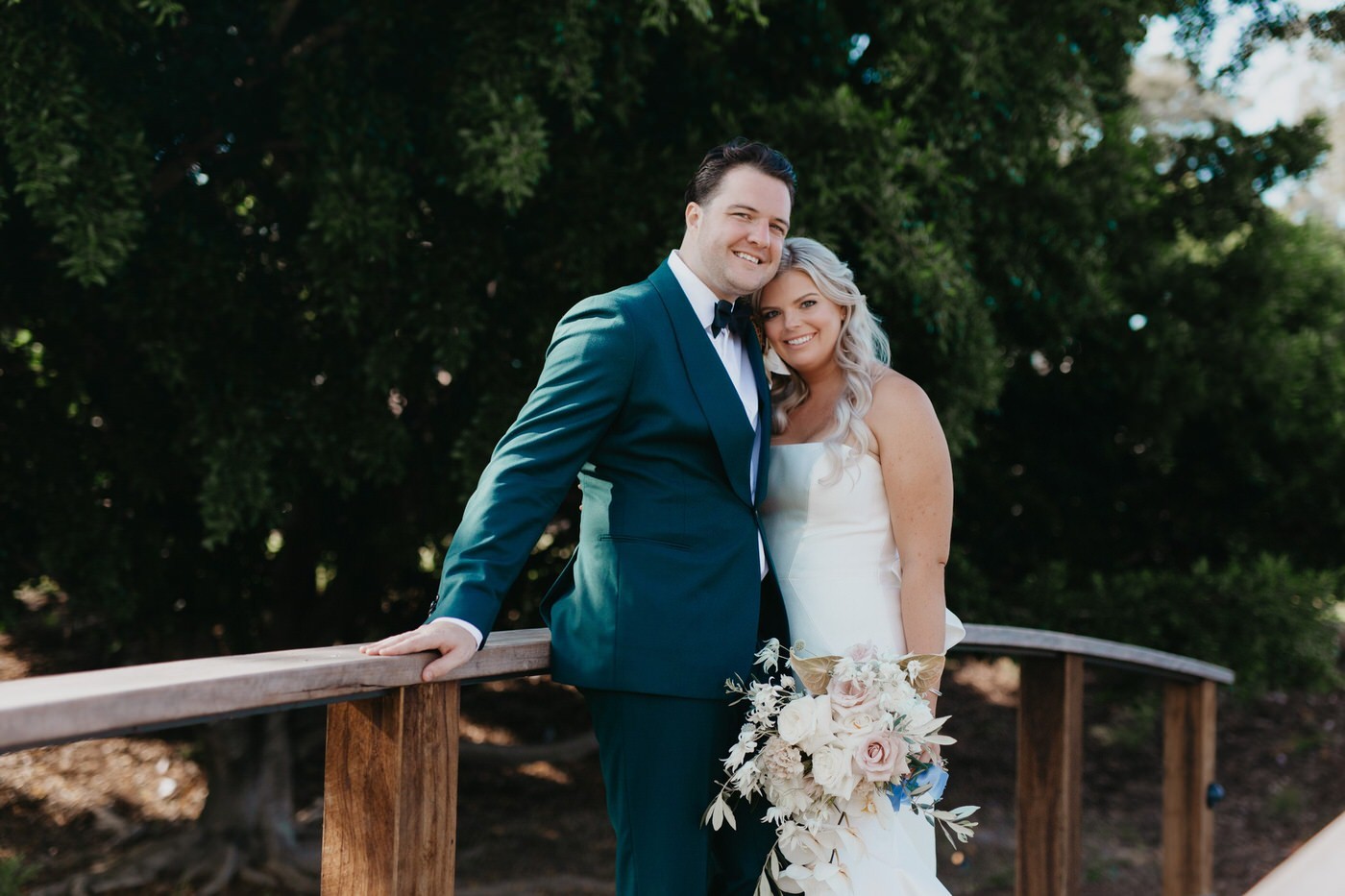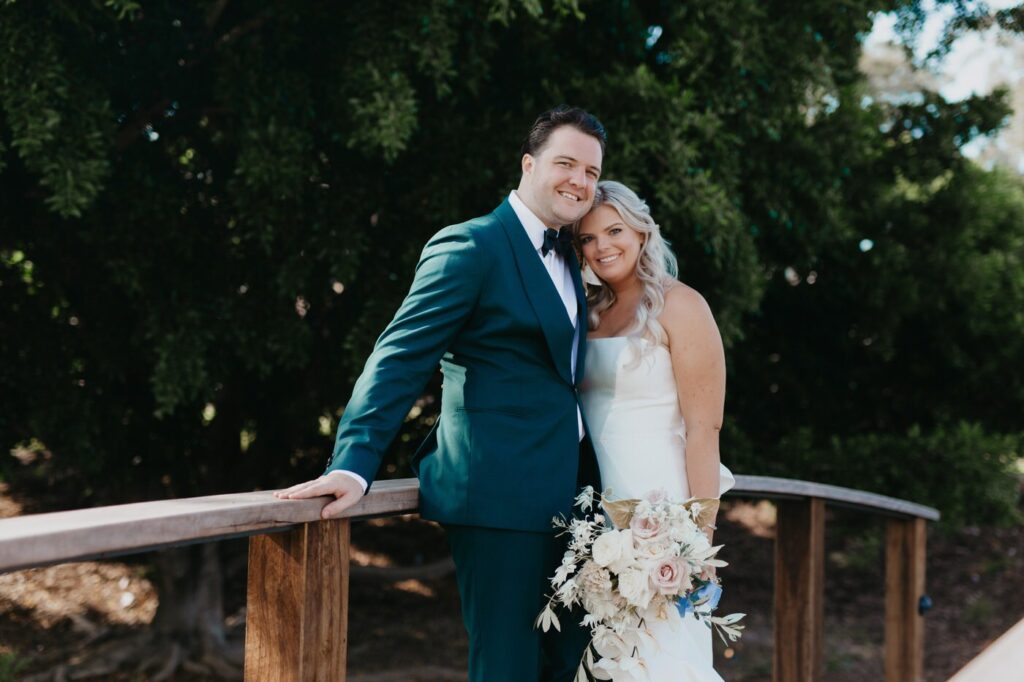 Bride's Maiden Name: Suzy Bowerman
Occupation: Corporate Travel Agent
Groom's Full Name: Braydon Bell
Occupation: Corporate Travel Agent
Wedding Date: 30/10/2021
How many guests?: 74
Wedding Budget: $50,000 ish
The Details
How did you and your partner meet?
We both worked for Flight Centre in the stores and met at a Valentines Day buzz night which is a monthly area get together and achievement celebration. He gave me a little confetti love heart which I still have somewhere. The next work event we were at together my boss made us kiss after way too many drinks and it grew from there!
How did he propose?
Braydon hired out a private island when we were staying at Hurawalhi in the Maldives and had "Will you marry me Suzy?" written in the sand with rose petals inside a big love heart. He walked me around to the side of the island where I could see it and got down on one knee. Obviously I said YES! We then celebrated on our little island with champagne and swims for a few hours. When we got back to our room they had set up the bath with rose petals on our balcony and our bed was decorated with flowers to say congratulations. We then made our way to the Champagne Pavillion to watch the sun set over the water with more champagne and nibbles.
Length of Engagement?
20 March 2020- 30 October 2021. About a year and a half.
What do you love most about your partner?
His kindness, he's very smart and teaches me new things most days, He encourages me and everyone around him to be better, we are absolute goof balls together, he makes me feel like home, and he's bloody good looking.
How would you describe your wedding in one or two words?
Extravagant Party !!
Tell us about your wedding invitations – how did you choose them and what do you love most about it?
We found the invitations that opened up with the flowers on one side and our names on the other and they seemed perfect. Braydon found the website and the design and we liked a few and narrowed it down to the white flower ones that flipped out. I loved that they were elegant yet simple which is the theme we were going for after booking the venue. The font styles were a big factor in deciding as I loved the way it was set out and how it looked, it was easy to ready and a little fancy, but not so much that it was hard to read. The cost was very reasonable compared to some other websites and the editing process was so easy and hassle free.
Tell us about your wedding gown and how you chose it:
My wedding dress appointment fell just after one of the QLD lockdowns in January 21 and they were only allowing 1 person to go with you so I decided to book the private room with champs and nibbles with a senior stylist at White Lily Couture so I could have most of my bridesmaids and mums there. I can't begin to explain how much it is worth paying the extra for the room, nibbles, champs and the service there. I fell in love with Oberon by Pronovias as it was simple but not plain and looked good in the right places. Then I attached a big bow on the back for just a little tiny bit of drama. It ended up being too big on the day, but I made it work.
What sort of style did you envision for your wedding day?
Elegant, classy, not over the top but also a place we could have a party with our best friends.
How did you come to choose the location and venue?
We found everything we looked at online thanks to covid lockdowns, mostly through instagram. We wanted something that was all in the one place so it was easy and the guests didn't have to figure out how to get from ceremony to reception. We also wanted to include food and many drinks. We'd had a look at a few other properties that had all these as well and thought we'd check out The Valley Estate to eliminate it from the list. When we went to see the property it was not built yet and they only had one house built there and video footage of what they envisaged it would look like. They had a little mini set up of what the table settings would be like under the house and some of their features that had arrived waiting to for the rest to be built like the chandeliers. From looking at the footage, the quality and detailing of the house that they had already built and the table settings we decided that was enough to book it in, so we deposited on it in December 20 without actually seeing it! We first saw the property after it was fully built in May 21 and were absolutely shocked and taken back by the beauty of the property and how extravagant the reception hall is and we knew we'd made the perfect choice.
Can you describe what type of ceremony you had and how you were able to personalise it?
Our ceremony was in the chapel and quite simple, it only went for 30 minutes. We found the perfect celebrant, Anthony Lewis, through a friend who did such an amazing job. Neither of us are religious so it was more about the two of us, our story and coming together.
We had our mate Blake as the flower boy who absolutely nailed it coming down the aisle before all the bridesmaids. We also got to do a pretty cool exit where we rung the bell of the chapel and then had all of our guests lined up outside. We walked through them as they threw confetti up in the air in front of us. It was kind of like the end of Grease but the wedding version.
Our entrance to the reception was AMAZING. The Groomsmen and Bridesmaids made their way down this grand set of stairs into the reception hall, through where everyone was seated and to the head table. We lined up some confetti cannons and a mad drop about 30 seconds into a song for Braydon and I to come out and make the littest entrance to a wedding reception ever to.
Describe the cake and cake topper:
The cake was 3 tier, chocolate mud cake on the bottom, caramel mud cake in the middle and white chocolate raspberry in the top tier. We had a simple white cake with a green bow around it and a cake topper that looked somewhat similar to us.
What flowers did you use in the bouquet and at the venue?
Ashleigh from the Other Bridesmaid put together the bouquets, flower arches, table settings, boutonniere's and corsage for my mum. I had some white orchids, white and light/dusty pink roses and a mixture of other flowers in the similar colour palette (white/creamy with a tiny bit of light pink).
How did you choose your table décor?
Everything was supplied by the Valley Estate which was one of the reasons we chose them – they made it so easy. We had a very small amount of flowers throughout the guest tables to keep it simple and then some bigger flower arrangements on the head table. Ashleigh also supplied some long pink candles to mix with the flowers. The candle holders were already there from The Valley Estate.
Lyn from Cakeit4u who did our cake was also able to do laser cut names. We used these as the place cards and almost everyone took it home with them.
What was the menu for the reception?
Canapes:
– Mushroom Ricotta Lemon Aspen Tarte
– Mushroom Arancini
– Chicken Satay skewer
– 5* Wagyu Beef skewer
Entrees:
– Stracciatella, tomatoes, olive, basil oil
– Pork Belly with quince puree
– Mac and cheese requested for the bride
Mains:
– Spinach Cannelloni with truffle bechamel
– Grass Fed Beef Sirloin with potato puree and enoki mushrooms.
Dessert:
– Wedding Cake
What were your favorite moments from the day?
The reception entrance, getting ready in the private girls sanctuary, finally relaxing and having a dance after the speeches.

Name your wedding soundtrack:
This was the hardest part I swear!
Bridesmaids Aisle song – Heartbeats by Jose Gonzalez
Aisle song – Everlong by the Foo Fighters (Acoustic)
Signing song – You're My Best Friend by Queen
Guests exiting chapel song It's You by Ali Gatie
Us exiting the chapel – She Loves You by The Beatles
Reception entrance for the bridal party – Memories (feat Kid Cudi) by David Guetta
Our entrance to the reception – Get it Right by Left Boy
First Dance – Can't Help Falling In Love by Elvis

The Team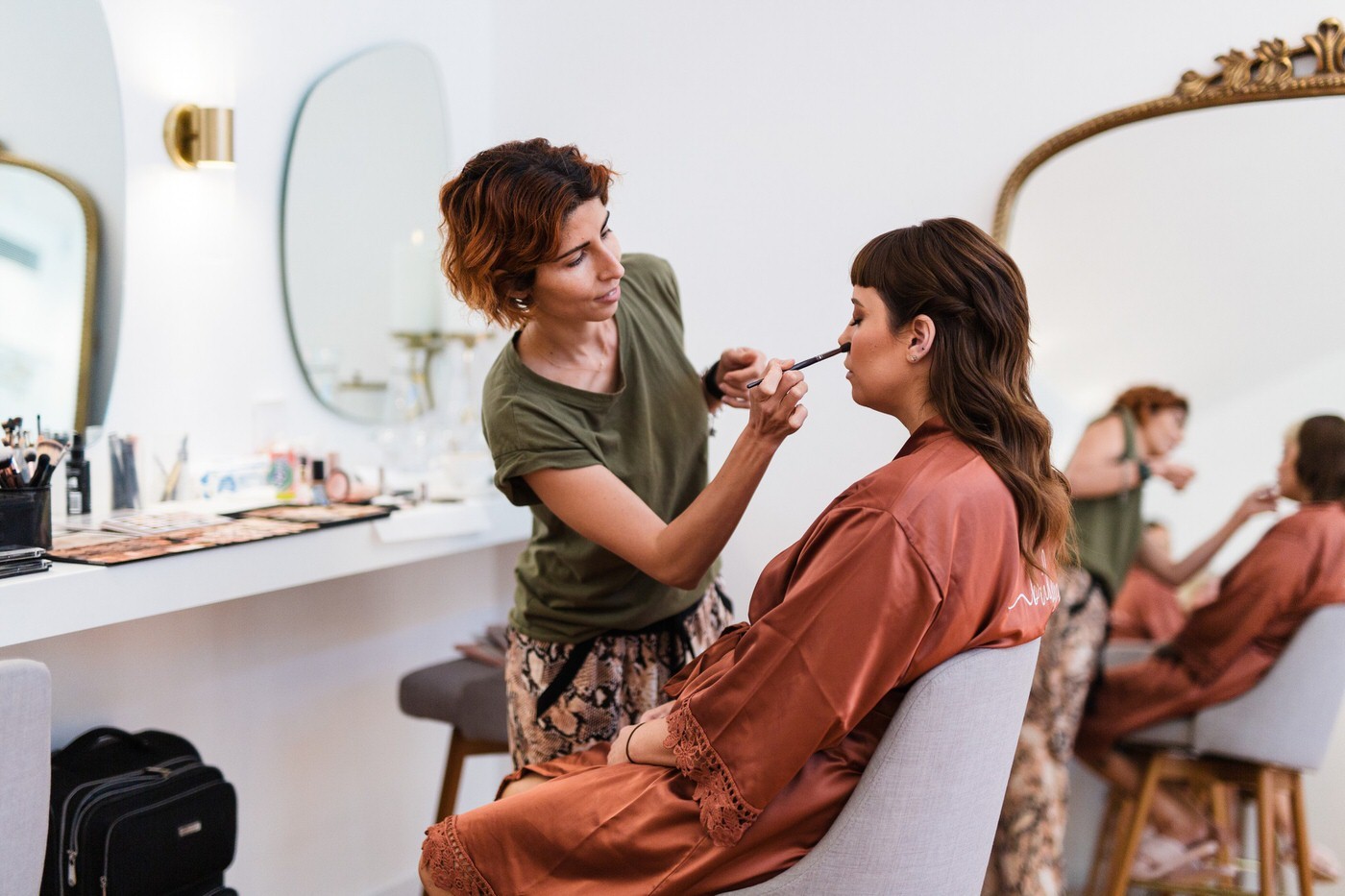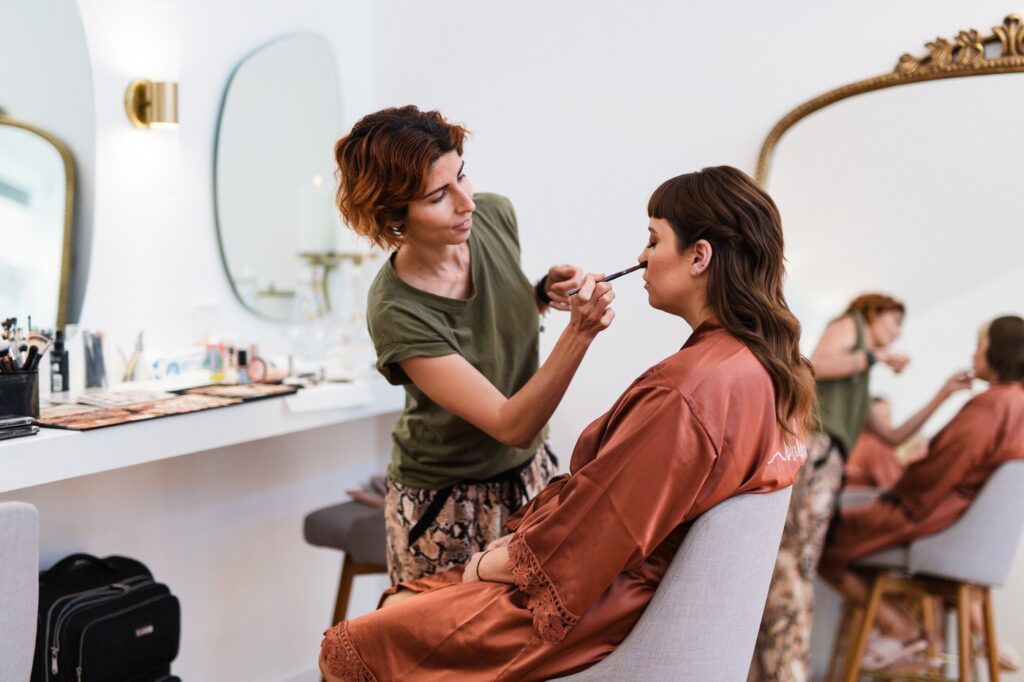 Wedding Invitations: Giant Invitations
Dress: Pronovias – from White Lily Couture
Veil: White Lily Couture
Makeup: Juliana Cruz
Hair: Hair by Lacey (Hairbylaceygc)
Shoes/ Bride: Novo https://www.novoshoes.com.au/
Shoes/ Groom: R.M Williams (Groom) https://www.rmwilliams.com.au/
Accessories: Bride earrings – Ayla + Oak.
Bridesmaids earrings – Black & Bloom
Bridesmaids Dresses: Wendy Ann (Online) – C401 in Sienna
Groom's Suit: Institchu
Groomsmen Suit: Institchu
Cake: Cakeit4u
Food: The Valley Estate (Mac and cheese requested for the bride 😉 )
Flowers: The Other Bridesmaid (Ashleigh)
Photographer: Mint Photography
Celebrant: Anthony Lewis
Ceremony & Reception Venue: The Valley Estate

Entertainment: DJ – Jason Nooning
Transport: Koala Coaches
Wedding Favours: Weddingstar
Organiser: Michelle at The Valley Estate (who was amazing)
Mother of the Bride Dress: Bridesmaids Only – Kira by Talia Sarah
MC: Nick Davis
Videographer: Atomic Butterfly
Wooden laser: – Lyn at Cakeit4u
Wedding Rings: Kavalri
   Engagement Ring: Brilliant Earth