Dancing and food isn't the only thing that has to happen at the wedding reception. If you like games and entertainment, then be sure to include some of these wedding games at your reception.
A Scavenger Hunt
Get your guests up and moving with a scavenger hunt.
If your wedding reception is spacious or outside, then running a fun scavenger hunt is a great way to entertain guests of all ages.
You can even present the winners with a small prize.
Giant Connect Four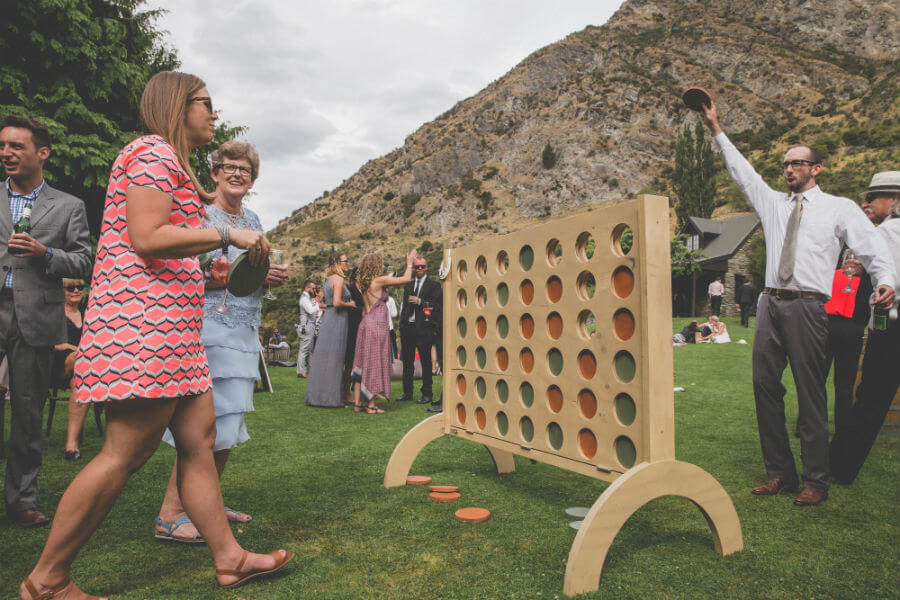 Connect four is always a childhood favourite, so why not bring it back and go large?
Giant connect four sets are perfect for lawn and grass areas, and are great for the kids.
You can even get creative and use colours that match your wedding.
I dare you to…
Have a few daring guests?
Place some pieces of paper filled with dares at each table and watch the fun begin when your guests are seated.
If you made the seating plan yourself, then keep in mind who will be sitting next to each other or at the same table.
Maybe you could help out that single friend.
Regular and Giant Jenga
Jenga is another childhood favourite which is great on a small and on a larger scale.
Set up a nice game of Jenga at the table or set up a large sized Jenga outside.
Garden weddings are great for giant Jenga, and can provide hours of fun for all guests.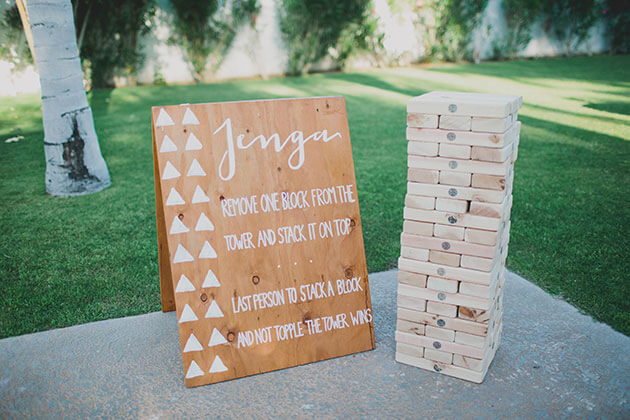 Ring Toss
Ring toss is one of the simplest games ever created, and it's great for weddings. Get creative and paint used bottles to match the colours of your wedding for a nice decorative touch.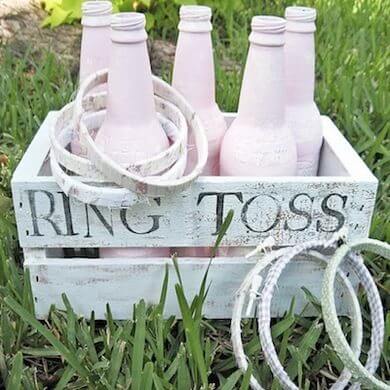 Bride and Groom Trivia
Want to see who really knows you?
Have the DJ read out some questions specific to the bride and groom and see which one of your guests really knows you.
Once again, you can present a nice prize to the winner.
Video Games
The new generation loves video games.
If you want to keep your younger guests entertained and out of trouble then videos games are perfect.
Wii sports is the perfect wedding video game,
as it allows kids to play popular sports against each other, such as tennis, golf, baseball and bowling!
Badminton
Badminton is a great garden wedding game.
Set up a nice, decorative badminton net and allow guests to play against each other in singles or in teams.

Spin the wheel
Much like 'I dare you too' spin the wheel is great for guests that are looking for something to do.
Encourage them to spin the wheel, and see what they have to do.
If you want it to make things interesting, then include some rather daring activities on the wheel.