10 Reasons Why Our Boxes Are Extra Special: by The Dress Box Co
1. A Highly Protective Box — extremely sturdy & strong to provide proper protection from light, dust, insects, disaster for the years to come.
2. Our Unique pH neutral board provides an acid free environment — this prevents discoloration (yellowing).
3. Handmade in the UK, not made by machine, hand finished with lace, ribbon & tissue.
4. A Breathable Box, that allows for changes in humidity, unlike plastic covers.
5. A Natural Preserving Environment to keep any item; no harmful chemicals involved.
6. Simply Stunning, especially made for you — no other box you find will be quite so beautiful, well made & in your choice of design.
7. Produced in the UK, by skilled craft persons. Our materials are also sourced from the UK.
8. Environmentally Friendly — made from 100% recycled board, with production & materials having a minimum global footprint.
9. Ready to take the dress, complete with acid free tissue, How to Pack guide and storage advice.
10. Romantic – your most treasured of dresses, or any precious item, needs to be kept in a box that befits its importance, made to last.

How Do I Know What Size Box to Purchase?
Lay your dress on a bed, fold the bodice over the skirt and tuck in the sides.
If the dress has a train, fold this back over the skirt before laying the bodice over the top.
Press down gently and measure the dimensions of your dress, particularly the height if choosing between the Standard and the Extra Large, or when choosing between the Extra Large and the Hollywood Heights.
For the Medium size you may need to fold the dress twice. Once at thigh level and again above the waist.
My Box Has a Large Train – Will It Require a Box with Lots of Space?
No, trains can fold down quite neatly, however a very large train will require careful packing. Here are some tips:
Lie the skirt of the wedding dress in the box first, face down with bodice out of the box, and spread the train out over the box.
Now gently fold the train back in over the skirt, creating neat layers of fabric, using the acid free tissue paper in between each layer.
Press down gently to remove air.
Lie the bodice back over the train and skirt so that it is face up and you can see the front of the dress.
If your dress has more than 2 layers of petticoat it will need an Extra-Large Size Box.
Travel Medium Box
Dimensions:             36 x 48 x 11cm (deep)
The Medium is suitable for slender wedding dress (can have a small train), with no net underskirt.
The dress will be folded twice to fit in this neat size box.
Comes with 15 sheets of acid free tissue paper. PLUS, you can preserve your dress in it after the day!
Also suitable for fitted bridesmaid dress and first communion dresses.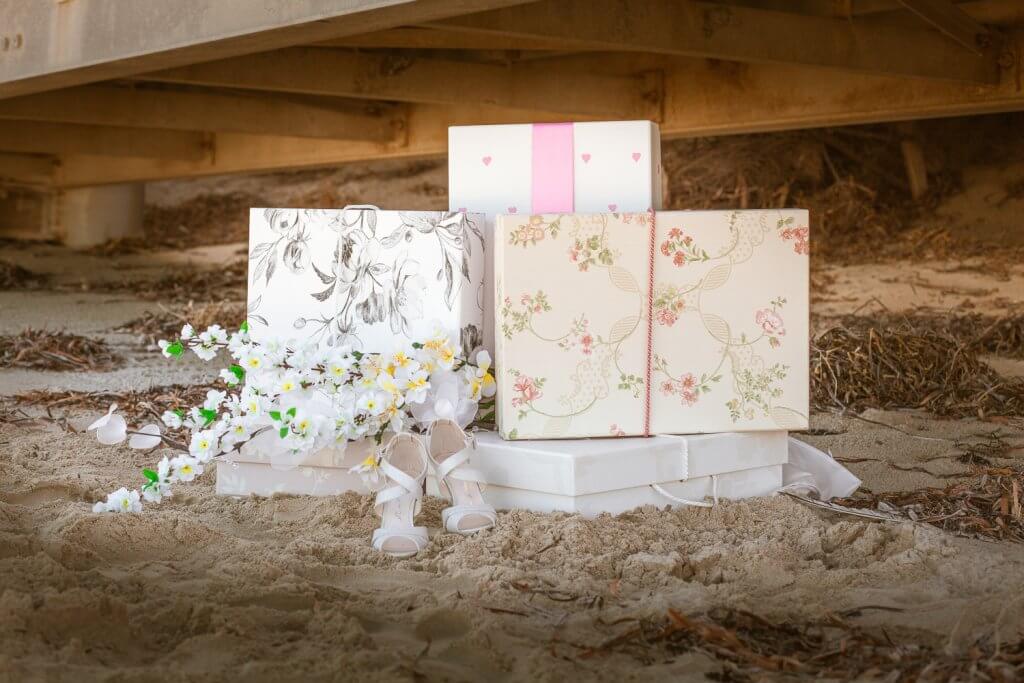 Travel Maxi Box
Dimensions:             35 x 55 x 20 cm (deep)
The Travel Maxi provides the maximum space allowed in the overhead lockers, to fit within the hand luggage dimensions requested by all major airlines.
The depth allows for a fuller skirt and veil.
PLUS, you can preserve your dress in it after the day!
Traditional Box
Dimensions:             50 x 75 x 15cm (deep)
The Traditional is suitable for most styles of wedding dress that have up to 2 layers of net underskirt including those with long trains.
It comes with 30 sheets of acid free tissue paper, finished with ribbon and lace trim.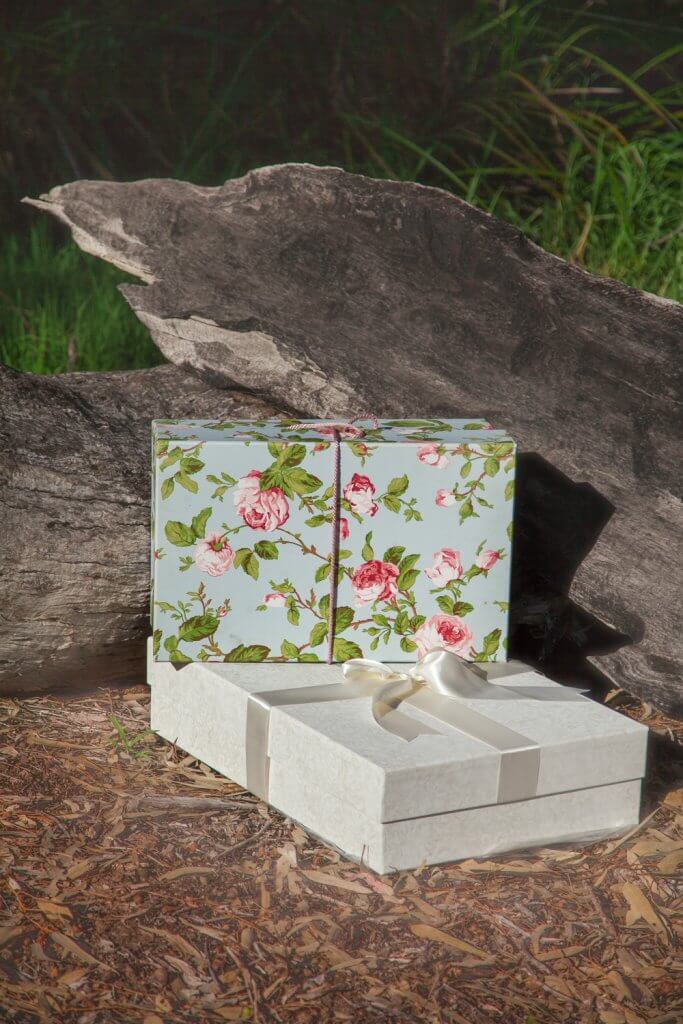 Extra-Large Box
Dimensions:             50 x 75 x 30cm (deep)
Suitable for full skirted dresses with three or more layers of underskirt and train.
Comes with 40 sheets of acid free tissue paper, ribbon to the lid, lace trim inside and cord carry in handles.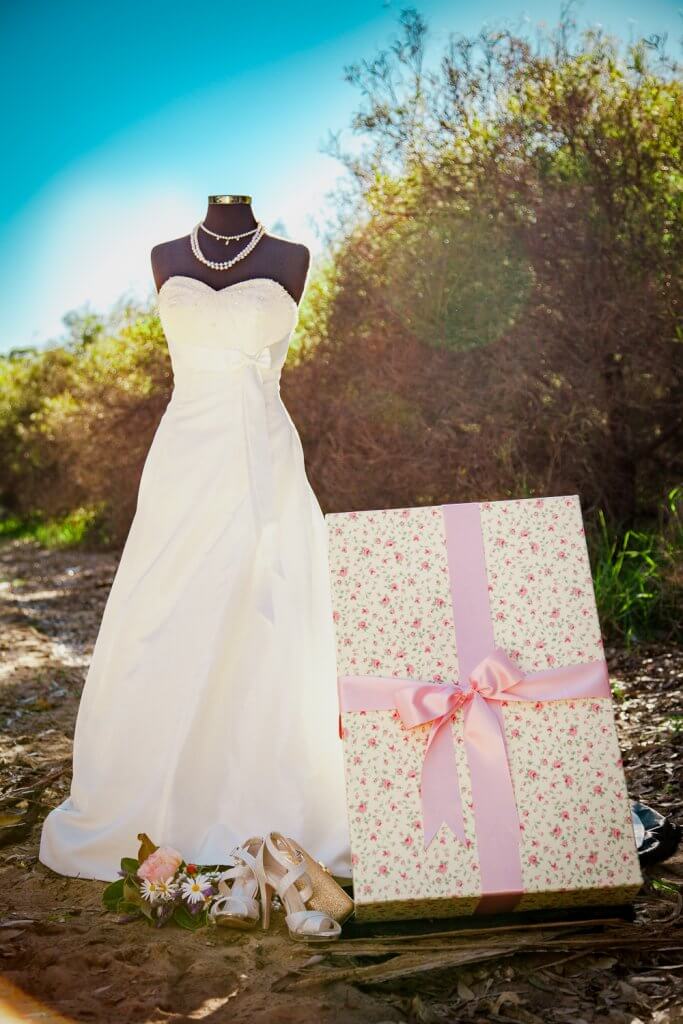 Hollywood Heights Box
Dimensions:             50 x 75 x 50 cm (deep)
For extremely full dresses; with extra height to allow for up to 10 layers of underskirt. Its volume is that of the Traditional & Extra Large combined. Includes 80 sheets of acid-free tissue, ribbon to the lid, lace trim inside and cord carry in handles.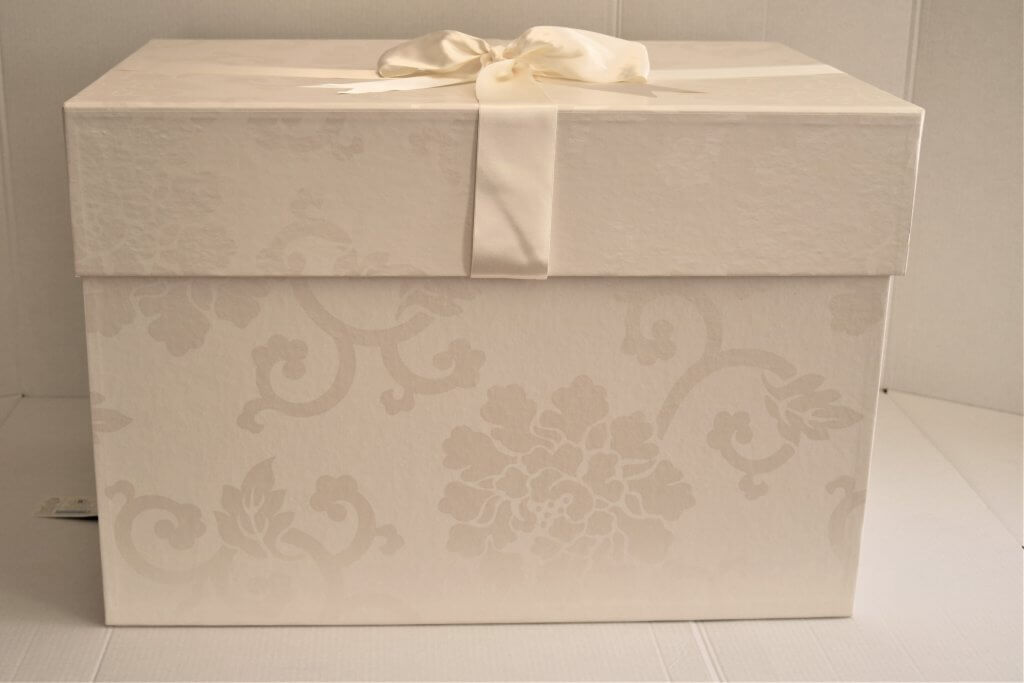 Christening Boxes
Dimensions:             25 x 35 x 9cm (deep)
Dimensions:             36 x 48 x 11cm (deep)
As with the wedding dress box, protection and prevention of yellowing of the gown.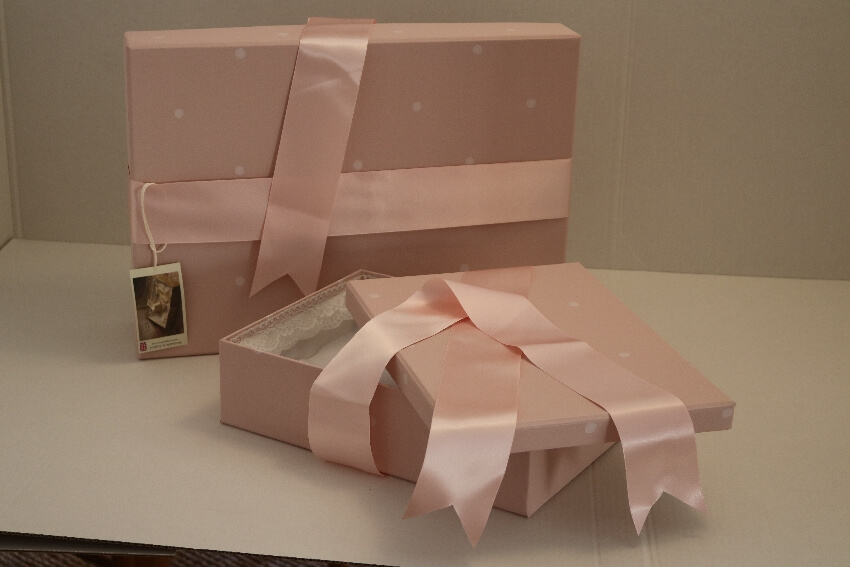 FIRST HOLY COMMUNION/CONFIRMATION BOX
Dimensions:             35 x 55 x 20 cm (deep)
As with a wedding dress, a First Holy Communion/Confirmation dress can easily discolour.
This special dress can be safely preserved in this box, for other little girls in the family to wear.
The Dress Box Co. was established by Caroline Warde in August 2016 to become Australia's only sole stockist/supplier of high quality, handmade, recycled (environmentally friendly) milled board dress storage and travel boxes to the Australian market, (think Downton Abbey and days gone by when travel trunks and hat boxes made all the difference to a lady's attire).
Caroline first discovered these gorgeous boxes when looking to transport the wedding dress of her future daughter in law and her own mother of the groom outfit to her son's destination wedding in Bali.
Disappointed by the sheer lack of choice and quality she found in Australia, Caroline sourced these beautiful boxes from her native England and knew immediately there was a gap in the market here in Australia for such a quality product.  Caroline also provides Dotty Pink & Dotty Blue Christening Boxes in 2 box sizes.
Shortly after her return, Caroline set up The Dress Box Co. to bring these beautiful, high quality boxes to the Australian market.
The Dress Box Co. is the sole distributor of these unique boxes throughout Australia, New Zealand & Asia.