WEDDING DJ's
As experienced wedding DJ's, we take extra care.
Planning that once in a lifetime special day?
Firstly – a huge congratulations to you. Recharge DJ's understands how special this day is. We understand that every wedding is different. With over 20 years experience, we can create the perfect atmosphere tailored just for you.
So many things to plan and not enough time?
Whilst we are more than happy to meet up with you to plan the ideal atmosphere, we understand that this might be difficult. Because of this, we offer the ability to either meet at a time and place to suit you, or to make those delicate arrangements by phone or email. This is your choice.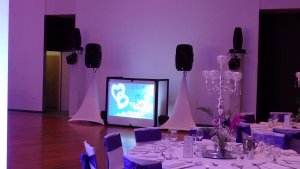 Want something extra special?
Our professional systems have the ability to play both video clips and slideshows. Got a special relative from out of town who can't make it? They could send us a "video message" that we can play for you during the night. Want to see the photos from the wedding ceremony? With co-ordination from your photographer, we can play a slideshow of your photos and still DJ simultaneously. You can also provide us with additional photos to showcase during the event (a photo of the proposal as an example). We can even play the video clips to your favourite songs. This added visual element is projected onto our purpose built DJ screen as part of our video package. We also have a wide range of optional extras including Smoke Machines, Dancing on Clouds, Up-lighting, larger sound systems for bigger numbers, additional dance-floor lighting, Karaoke, and more. Ask us for more information.
Need a little help?
With our years of experience and hundreds of weddings,  Recharge DJ's is also happy to give advice, or even to be used as a "sounding board" for ideas you may have. We can really help with things you might not have thought about. From layouts to speeches to ensuring the night runs smoothly, we can give as much or as little input as you like.
Photobooth available – Simple and easy to use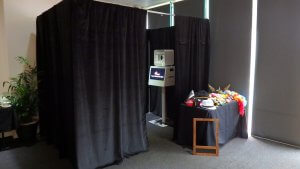 When you book our Photo Booth, we arrive early and have it set up and ready to go for the start of your event. All you need to do is to walk up to it and touch the screen to start. You can use our full enclosure or as an "open air" style. We use a Canon DSLR camera rather than a webcam to ensure you get good quality images. Our Photobooth also talks to our video screen! This means you can see the photos on the big screen just moments after they are taken. Props are included and so is and attendant. There is someone onsite the whole time to make sure you and your guests get the most out of your event. We have several templates available (for printing the photos) or you can design your own. Digital copies of the photos are provided to you after the event.
Keeping the cost down!
We are not members of any of the expensive Bridal clubs. Happy clients and keeping costs down are more important to us than fancy trophies and titles. Joining these clubs can easily cost over $1,000 per year EACH. By not joining these clubs, we can pass the savings on to you. This means you can get the same quality (sometimes better quality) without having to pay any extra.
Confused with all of the options DJ companies offer?
Recharge DJ's cut through the confusion of other wedding DJ's. Instead of bombarding you with ohms, RMS, multi-tri colours, scans, amplifiers and more, we'll simply discuss your plans, size of room & numbers of guests, and just give you recommendations on what you need. We'll create a package just for you. Alternatively, you can give us a budget, and we'll create a package to suit. Obviously we'll discuss this with you and give you the option on making alterations. Don't forget we offer a wide range of optional extras. We have things like Karaoke, Dancing on a Cloud and Uplighting just to name a few.
On a tight budget or don't want the fancy extras?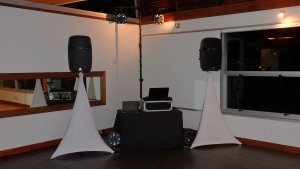 Why not look at our standard package. You get everything that is included in the video package but without the video screen. We still give you the same excellent service, just without the "frills". This package can also be upgraded with additional lighting or larger sound systems for bigger numbers.
Contact us here, or through our "make a booking/quote" form and we will be happy to discuss your requirements obligation free.