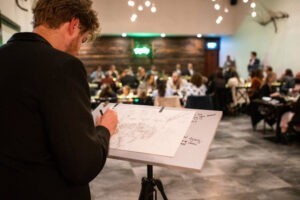 Hi there, I'm Tim. I'm an artist and comic book illustrator from Brisbane.
I have a bachelor's degree in Visual Art from the University of Canberra and have won several awards for different art and design projects.
Like most artists, I love drawing people, I especially love drawing people in action.
I love the challenge of capturing movement and expressions in my drawings, and also, I just love a good party.
While a wedding is about romance and a couple coming together, it is also about having a good time and joyfully celebrating with your friends and family. It's about spoiling them with great food and drinks, a great atmosphere, dancing to the songs you love and just having fun.
All of my illustrations are sketched live with a pencil and paper during the events, where I get the chance to witness and document with honesty, your guests unselfconsciously enjoying themselves.
Over the years I've felt like photos just don't do justice to the excitement and chaos of a party. A photograph is a frozen moment in time, where people will often pause what they are doing to smile at the camera.
As I usually draw for the entire duration of an event, many of the finished artworks will map a timeline of the whole party. From guests arriving, eating, speeches, laughing, dancing, and saying their farewells, all in one image.
I also love chatting to guests throughout the night, where I can pick up on little pieces of personalities and stories from the partygoers. Often these small traits will find their way into the artwork itself, as I get to hear stories such as; who spent the past two weeks hand making the decorations, or that one of the groomsmen is a big roller-skating enthusiast (and should therefore be drawn into the picture wearing said roller-skates).
My goal is to create a high-quality work of art that can be displayed in your home, that reflects the fun, playfulness and character of your event. With many personal touches and hidden details that will be the topic of conversations for years to come.
As I am present and drawing during the whole event, I also provide entertainment for your guests, as many enjoy chatting, asking questions, and watching the drawing develop over the course of the evening.
After your event, I work to digitally refine and colour the image on the computer in my studio, similar to how a modern comic book page is made. This means the final image is a high-resolution digital file, and can be printed at any size you require, from a postcard to a billboard.
While this won't suit every couple's style, but if you're looking for something truly different? this is an unexpectedly unique way to capture the memories from your big day, and I would love to work with you and be a part of your celebration!